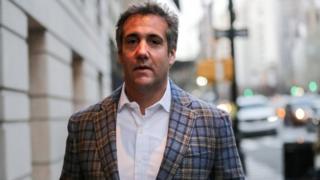 President Donald Trump's personal lawyer received a payment of $500,000 (£368,000) from a firm tied to a Russian oligarch, US media report.
Citing financial records, the reports say a company set up by Michael Cohen was also paid after the 2016 election by corporations seeking approval from the administration on business.
Mr Cohen also paid a porn star who says she had an affair with Mr Trump.
The actress's lawyer first revealed the payments in a tweet on Tuesday.
Mr Cohen's company, Essential Consultants LLC, last year received half a million dollars from Columbus Nova, a New York-based investment company that has financial ties to a firm controlled by Russian oligarch Viktor Vekselberg, according to the New York Times.
A lawyer for Columbus Nova said late on Tuesday that the payment was a consulting fee and had nothing to do with Mr Vekselberg.
Michael Avenatti, the lawyer for adult film actress Stormy Daniels, first posted the revelations on Twitter.
Ms Daniels, whose real name is Stephanie Clifford, alleges she had a sexual relationship with Mr Trump in 2006 – a claim the president has denied.
Mr Cohen paid Ms Daniels $130,000 (£92,000) during the 2016 presidential campaign in exchange for signing a non-disclosure agreement.
The documents reportedly show that Essential Consultants also received a $200,000 payment from AT&T as the corporation sought approval from the Trump administration for its planned acquisition Time Warner.
AT&T confirmed a payment for an undisclosed amount to CNN for "insights into understanding the new administration".
"Essential Consulting was one of several firms we engaged in early 2017 to provide insights into understanding the new administration," the company said on Tuesday.
"They did no legal or lobbying work for us, and the contract ended in December 2017."
Last month the FBI seized papers from Mr Cohen's office following a request from Special Counsel Robert Mueller, who is investigating suspected Russian meddling in the 2016 election.