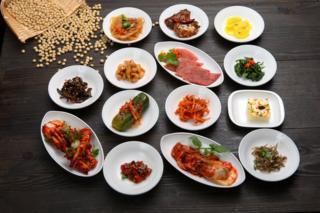 For a man who likes well-done steaks with a side of tomato ketchup, it was quite a complicated menu.
"Green mango kerabu with honey lime dressing and fresh octopus"; "Oiseon – Korean stuffed cucumber"; "Daegu jorim – soy-braised cod fish with radish, Asian vegetables".
There were lots of words President Trump is likely to have been unfamiliar with. And the watching Twitterati were bemused.
Sasa Petricic, a Canadian Broadcasting Corporation journalist, asked whether the two leaders would "reach the HaagenDazs without a melt-down, or will things go sour by the crispy pork?"
Others pondered whether Trump would eat something like octopus.
But even Koreans were raising their eyebrows. Oiseon – made up of cucumbers stuffed with beef, egg and carrot – is a traditional dish dating back to the Joseon Dynasty that ruled from 1392-1897.
And it was also the kind of thing eaten by the royal family.
So it's a bit like the British prime minister sitting down to dine with a visiting dignitary and chowing down on a roasted swan – a favourite of Henry VIII.
No wonder young Koreans were scratching their heads. Some – understandably – mistook the dish for "oisobagi" – cucumber kimchi – something that people eat daily.
"I wonder what it tastes like?" one South Korean pondered in a tweet.
But another dish on the menu – the Daegu Jorim – was more familiar. Jorim involves boiling meat, fish or vegetables in a soy-based broth until most of the liquid is absorbed.
It would commonly be eaten as one of the many small dishes that make up a typical Korean meal.
So it's safe to say that while Pyongyang cold noodles (which Mr Kim gave to his South Korean counterpart when he crossed the border for the first time in April) weren't on the menu, the Singaporean hosts made a significant effort to make Mr Kim feel at home.
And being wise and careful diplomats, they did not leave Mr Trump in the cold. In fact, it appears that the menu was crafted in such a way that he could enjoy a slap-up lunch that wouldn't look out of place in a brash 1980s New York restaurant.
For starters, he could have picked the "traditional prawn cocktail served with avocado salad". For his main the "beef short rib confit served with potato dauphinoise and steamed broccolini". And for dessert "the Haagen-Dazs vanilla ice cream with cherry coulis".
And if there was any doubt beef short rib was designed for Mr Trump, here's the giveaway: it was served with red wine sauce on the side.
Mr Trump is of course, famously, a teetotaller.
However the Singaporeans – who have splashed out $15m on the summit – didn't miss out on their chance to give the high-profile visitors a taste of their own food. The city state is known for its diversity and mix of Chinese, Indian and Malay dishes (the three main ethnic groups).
Aside from the short rib confit, the other main was a "combination of sweet and sour crispy pork and Yangzhou fried rice with home-made XO chili sauce" – the kind of dish you would find at a Singaporean Chinese restaurant.
XO sauce is made up of fine cognac (extra-old, hence the XO), dried scallops and prawns, garlic and chilli.
But while some Singaporeans will claim it as their own, it is actually believed to have originated in Hong Kong in the 1980s. And of course the Yangzhou fried rice is a more direct nod to China – a looming but unseen presence at these talks.
It's worth noting though that this kind of fried rice is the typical one served at Chinese restaurants in the US. So perhaps this was a subtle message that the US and China had to agree a compromise on North Korea's future. Or perhaps we are reading too much into this.
The other "local" dish on the menu was a Malay "green mango kerabu with honey lime dressing and fresh octopus".
Kerabu is a kind of salad, usually made with a dressing that has lime juice, sugar and chilli.
So this no doubt carefully-constructed menu had nods to all the key players – the US and the West (is it a stretch to say the chocolate ganache was a wink to the European Union?), both of the Koreas, China, and of course the Singaporean hosts.
Japan and Russia might be feeling a little left out – but this was diplomacy on a plate.
The full menu
Starters
Traditional prawn cocktail served with avocado salad
Green mango kerabu with honey lime dressing and fresh octopus
"Oiseon" – Korean stuffed cucumber
Main courses
Beef short rib confit, served with potato dauphinoise and steamed broccolini, red wine sauce on the side
Combination of sweet and sour crispy pork and Yangzhou fried rice with homemade XO chilli sauce "Daegu jorim" – soy-braised cod fish with radish, asian vegetables
Desserts
Dark chocolate tartlet ganache Haagen-Dazs vanilla ice-cream with cherry coulis
Tropezienne