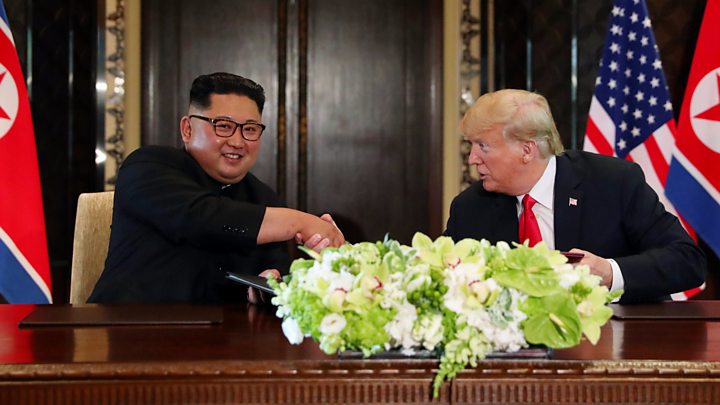 US President Donald Trump says his talks with North Korean leader Kim Jong-un that culminated in a joint agreement were "honest, direct and productive".
Mr Trump said he would halt "war games" while Mr Kim had promised to destroy a missile testing site.
Their agreement also included a commitment from Mr Kim to rid the Korean peninsula of nuclear weapons.
It is the first time a US president and North Korean leader have met.
The pair shook hands, held talks together and ate lunch accompanied by advisers.
The agreement said the two countries would co-operate towards "new relations" while the US would provide "security guarantees" to North Korea.
Announcing the agreement to reporters, Mr Trump said that Mr Kim had agreed to "verified" denuclearisation – a key US demand before the summit.
Mr Trump also said that he had raised the issue of human rights with Mr Kim, who runs a totalitarian regime with extreme censorship and forced-labour camps.