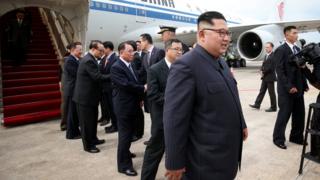 North Korean leader Kim Jong-un has arrived in Singapore for his scheduled summit meeting with US President Donald Trump.
The historic meeting between the two leaders will take place at the island resort of Sentosa on Tuesday.
It is the first time a North Korean leader has met a sitting US president.
Before setting off, Mr Trump described the summit as a "one-time shot" at peace and said the two were in "unknown territory in the truest sense".
The US president will arrive later on Sunday.
Washington hopes the summit will kick-start a process that eventually sees Mr Kim give up his nuclear weapons.
The two leaders have had an extraordinary up-and-down relationship over the past 18 months, trading insults and threatening war before abruptly changing tack and moving towards a face-to-face meeting.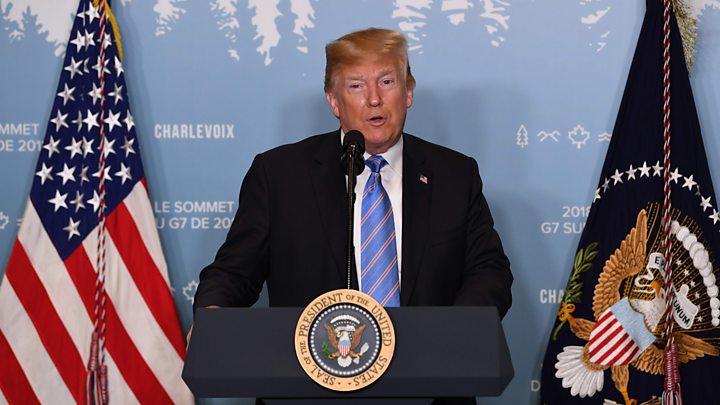 Both leaders will meet Singapore's Prime Minister Lee Hsien Loong before their summit.
---
Read more about the summit here:
---
How did we get here?
Mr Trump's first year in office was marked by bitter exchanges with Mr Kim as North Korea conducted several ballistic missile tests in defiance of international warnings.
The US president vowed to unleash "fire and fury" if Pyongyang kept threatening the US. He referred to Mr Kim as "little rocket man".
In return, Mr Kim called him "mentally deranged" and a "dotard".
Despite the White House's "maximum pressure" campaign, the North remained defiant and carried out its sixth nuclear test in September 2017. Soon after, Mr Kim declared that his country had achieved its mission of becoming a nuclear state, with missiles that could reach the US.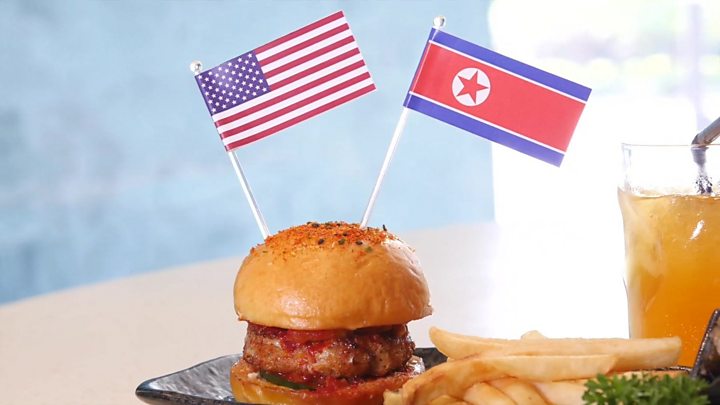 But in early 2018, North Korea began attempts to improve relations with South Korea by sending a team and delegates to the Winter Olympics in Pyeongchang.
In March, Mr Trump surprised the world by accepting an invitation from Mr Kim – delivered via Seoul – to meet in person.
Since then, the path to the summit has been rocky and uncertain, with Mr Trump at one point calling it off completely. But after some diplomatic scrambling, the two leaders will now sit down together.
Singapore is only the third country Mr Kim has visited since he became North Korea's leader in 2011.
He made his first trip abroad as leader to China in March, and in April he became the first North Korean leader to step foot in South Korea when he met South Korean President Moon Jae-in at Panmunjom on their mutual border.
It is thought however that Mr Kim went to boarding school in Switzerland. Recently, South Korea provided him with Swiss rösti at a summit meeting.
What do the two sides want?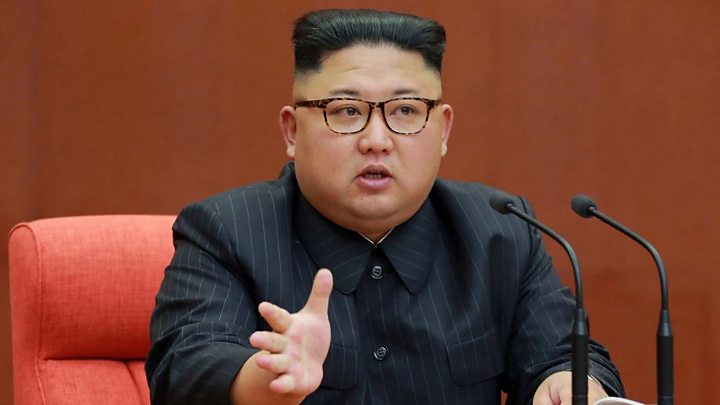 The US wants North Korea to get rid of its nuclear weapons in an irreversible manner that can be verified internationally. Only when steps begin to be taken in that direction will it "receive relief" from the grip of UN sanctions, Defence Secretary Jim Mattis recently said.
But this does not mean the US is expecting to get a final deal in Singapore. President Trump has described it as a "get-to-know-you situation" and said: "It's going to be a process."
Analysts say that Mr Kim, by winning the prestige of a meeting with the world's most powerful leader, has already gained a victory. They also question why he would give up his nuclear weapons after pushing so hard to get them.
Some say he would never do it, unless everyone else on the Korean peninsula disarms too – including the US.
However, Mr Kim has also said he now wants to focus on building the North Korean economy – and thus wants sanctions relief and international investment.
The question is what concessions he is willing to make, and whether he will stick to any promises made. Pledges to scrap the nuclear programme have been made before by his predecessors.
What could actually happen?
It's hard to say, but Mr Trump has signalled that they could sign an agreement to formally end the Korean War, which ended in a truce in 1953. Doing that, would probably be "the easy part", he said.
The US president has also said that if he thinks things are going badly, he will walk out of the meeting, but if things go well, Mr Kim could receive an invitation to the White House.
US Secretary of State Mike Pompeo, who has met Mr Kim twice in recent months, said he believed he "is prepared to denuclearise" and agree "big and bold" changes.
But the North Koreans have not given much away about their position.