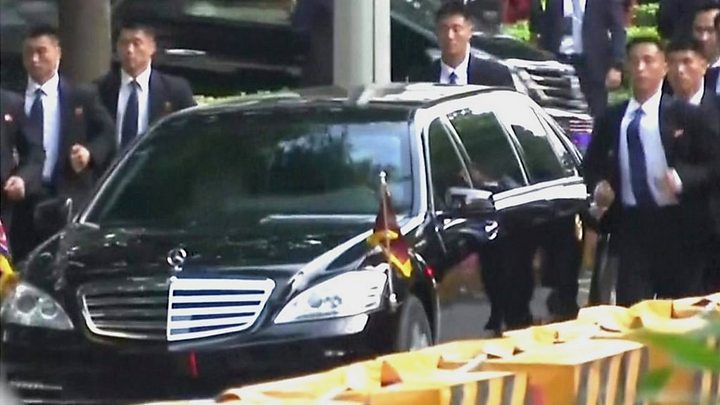 Kim Jong-un will discuss a "permanent… peace-keeping mechanism" with US President Donald Trump when they meet on Tuesday, North Korea says.
Both leaders have arrived in Singapore in preparation for their much anticipated, historic first encounter.
Mr Kim said "the entire world [was] watching" while Mr Trump said he had a good feeling about the summit.
The US wants North Korea to give up its nuclear weapons but it is not clear what Pyongyang might want in return.
The two leaders are staying in separate hotels, not far from each other, on Singapore's resort island of Sentosa.
Mr Kim is staying at Singapore's five-star St Regis hotel, while Mr Trump is staying about half a mile away at the Shangri La.
What did North Korea say?
In a statement released by the state news agency KCNA, it said the two leaders would discuss a "permanent and durable peace-keeping mechanism" for the Korean Peninsula, the "denuclearisation" of the Korean peninsula and other issues of mutual concern.
A "changed era" had come about, it said.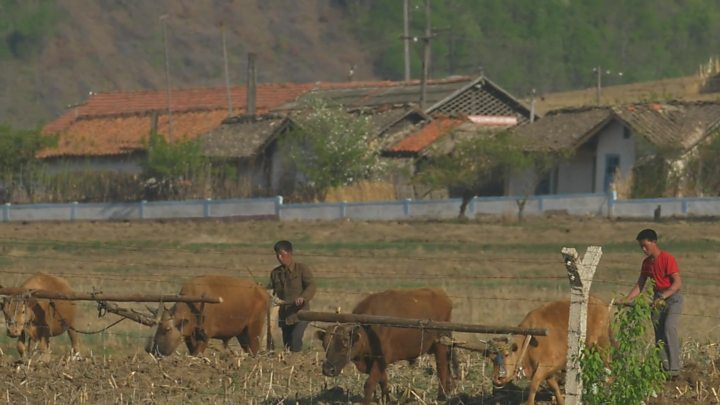 How did they arrive?
The US president flew in on board Air Force One on Sunday, arriving from Canada where a G7 summit ended in a war of words over trade between Mr Trump and his allies.
He was greeted by Singaporean Foreign Minister Vivian Balakrishnan as he stepped off his plane.
The US president hopes the summit will kick-start a process that eventually sees Mr Kim give up nuclear weapons.
Mr Kim arrived on a plane loaned from China along with his outspoken Foreign Minister, Ri Yong-ho, Defence Minister No Kwang-chol and his sister Kim Yo-jong.
Mr Kim was driven to the city centre on Sunday in a stretch Mercedes-Benz limousine accompanied by a convoy of more than 20 vehicles.
He met Singapore's Prime Minister Lee Hsien Loong to thank him for hosting the summit, adding: "If the summit becomes a success, the Singaporean efforts will go down in history."
---
Read more about the summit here:
---
How did we get here?
Mr Trump and Mr Kim have had an extraordinary up-and-down relationship over the past 18 months, trading insults and threatening war before abruptly changing tack and moving towards a face-to-face meeting.
Mr Trump's first year in office was marked by bitter exchanges with Mr Kim as North Korea conducted several ballistic missile tests in defiance of international warnings.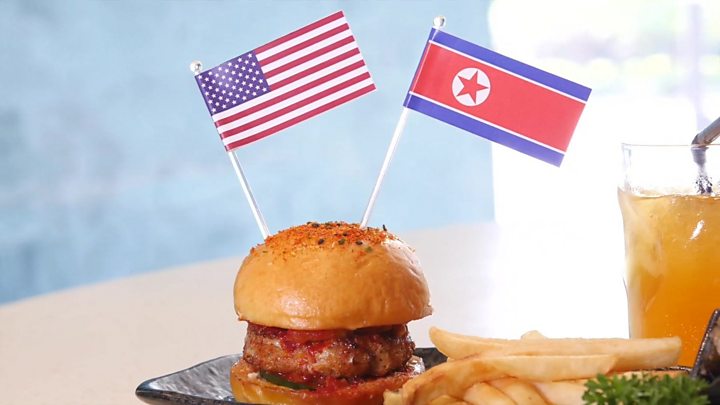 The US president vowed to unleash "fire and fury" if Pyongyang kept threatening the US. He also referred to Mr Kim as "little rocket man".
In return, Mr Kim called him "mentally deranged" and a "dotard".
Despite the White House's "maximum pressure" campaign, the North remained defiant and carried out its sixth nuclear test in September 2017. Soon after, Mr Kim declared that his country had achieved its mission of becoming a nuclear state, with missiles that could reach the US.
But in early 2018, North Korea began attempts to improve relations with South Korea by sending a team and delegates to the Winter Olympics in Pyeongchang.
In March, Mr Trump surprised the world by accepting an invitation from Mr Kim – delivered via Seoul – to meet in person.
Since then, the path to the summit has been rocky, with Mr Trump at one point calling it off completely. But after some diplomatic scrambling, the two leaders will now sit down together.