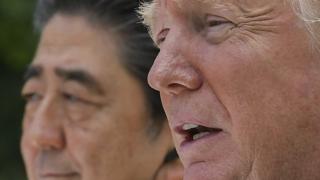 US President Donald Trump said he would consider inviting North Korea's Kim Jong-un to the White House if their summit in Singapore goes well.
Mr Trump made the comment after meeting Japan's PM Shinzo Abe to discuss the 12 June summit.
He said it was possible an agreement to end the Korean War could be reached, though he called that "the easy part" of the negotiations.
"It's what happens after that that is really important," he told reporters.
The US and its regional allies want to see North Korea give up its nuclear weapons but Mr Trump acknowledged that it "will take longer" than one meeting to realise that goal.
What did Mr Trump say about the summit?
Mr Trump said he did not want to use the term "maximum pressure" in reference to North Korea "because we're going into a friendly negotiation".
But he said he had many sanctions he could use against North Korea, but didn't intend to "because I really think there's a potential to make a deal".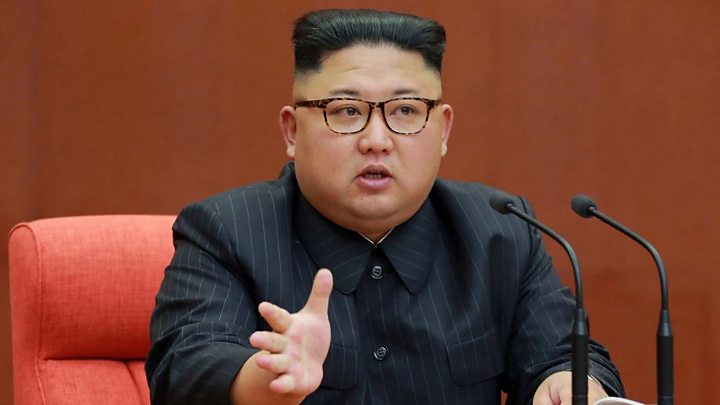 When asked about a report a day ago that Mr Trump might invite Mr Kim to his Florida retreat Mar-a-Lago if next Tuesday's summit goes well, he quipped: "Maybe we'll start with the White House, what do you think?"
What does Mr Abe want from the summit?
The Japanese PM has held regular meetings with Mr Trump since the US president took office, but he has been eager to ensure Japan's interests are not overlooked in any rapprochement between the US and North Korea.
Mr Abe said he was confident Mr Trump understood Japan's concerns about its citizens who were abducted by North Korea in the 1970s and 1980s to help train its spies in Japanese language and customs.
Although North Korea has admitted to 13 kidnappings, the real figure is thought to be higher than that.
Mr Abe said he wanted to "directly face North Korea and talk with them so that the abduction problem can be resolved quickly".
He also reiterated Japan's policy to pursue "real peace" in the region and said if North Korea "is willing to take steps" in the right direction it has a "bright future ahead".
What else has been happening in the run up to 12 June?
Mr Abe's visit is part of a flurry of diplomatic activity in the run-up to the summit, as countries try to ensure their interests are not overlooked.
Mr Kim has already had two meetings with South Korean President Moon Jae-in. Mr Moon went on to visit Mr Trump in the US.
Russia's Foreign Minister Sergei Lavrov visited Mr Kim in Pyongyang, laying the groundwork for Mr Kim to visit President Vladimir Putin in Moscow later this year.
Mr Kim has made two trips to China, meeting President Xi Jinping.
After an escalation of rhetoric between US and North Korean top diplomats, Mr Trump last month briefly called off the talks.
On Wednesday, Mr Trump's lawyer Rudy Giuliani said North Korea's leader had "begged" for their summit to go ahead.
"Kim Jong-un got back on his hands and knees and begged for it, which is exactly the position you want to put him in," Mr Giuliani said at a conference in Israel.
Mr Giuliani, who is acting as lawyer for the US president in the Russia collusion inquiry, said the US was going into the summit in a position much stronger than North Korea.
There was no immediate response from the North Koreans to his comments.