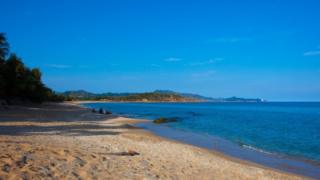 US President Donald Trump's meeting with North Korean leader Kim Jong-un in Singapore was a historic event, marking the first time that current heads of the two countries have met.
From the historic handshake between the two leaders to the signing of a joint agreement, experts have analysed the meeting and its significance for future US-North Korean relations.
But there were some odd moments of the day, which have got people talking.
1. The beaches
Before he became president, Donald Trump was better known for his property empire.
But it was still a surprising moment to hear the US leader mention a lesser known North Korean attraction: its coastline.
"They (North Korea) have great beaches. You see that whenever they're exploding their cannons into the ocean. I said, 'Boy look at that view. Wouldn't that make a great condo?'," he told reporters after meeting Mr Kim.
The US government currently advises against all travel to North Korea and says that its citizens who decide to go should draft a will before departure.
2. The pose
Before the two leaders sat down for a working lunch, Mr Trump jokingly asked photographers: "Getting a good picture, everybody? So we look nice and handsome and thin?"
However, his words seem to have been lost in translation, judging by Mr Kim's blank expression.
Some of the dishes on the menu raised eyebrows, even among Koreans.
3. 'The Beast'
After talks concluded, Mr Trump decided to show the North Korean leader his ride for the summit – a black presidential limousine known as The Beast.
Cameras followed the two men as they walked over to the vehicle and Mr Kim briefly looked inside.
4. The pens
The pens originally laid out for the signing of the documents were black and featured President Trump's signature in gold.
But at the last moment, Mr Kim's influential sister Kim Yo-jong switched the North Korean leader's pen for a ballpoint pen.
Security for the North Korean leader has been high throughout the trip, but it is unclear whether the pens were swapped for security or political reasons.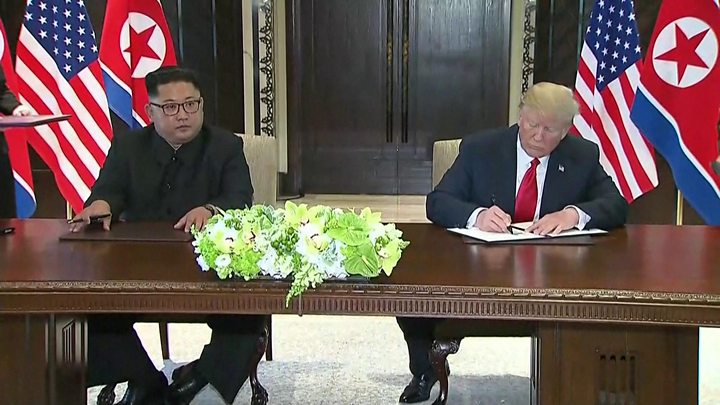 5. The tears
While interest in the meeting was understandably high, one man seemed more emotional than most.
Former basketball star Dennis Rodman, who has visited North Korea five times and twice took part in Mr Trump's Celebrity Apprentice, was visibly overwhelmed as he spoke about the meeting between the two leaders.
He said he had received "so many death threats" over his contacts with the North Korean leader, but said: "I took all those bullets, I took all that, I took everything… and I'm still standing."
"Today is a great day for everybody… I'm so happy," he added.