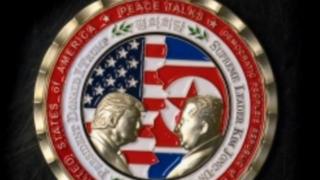 A commemorative coin issued by the White House ahead of the planned summit between President Donald Trump and North Korean leader Kim Jong-un has been widely criticised.
The coin describes the summit as "peace talks" and depicts a square-jawed Mr Trump sternly facing his North Korean counterpart.
Many on social media pointed out that the meeting may not even take place.
The White House said issuing such a coin was "common practice".
Regional expert Prof Robert E Kelly, of Busan University in South Korea, took to Twitter to describe the coin as "gross".
"Whose personality cult exactly is this summit legitimising? This is un-American," he said.
Mr Trump met South Korea's president Moon Jae-in on Tuesday, amid uncertainty over the summit planned for 12 June.
North Korea has threatened to cancel the meeting if the US insists on it giving up nuclear weapons unilaterally.
The coin refers to Mr Kim, as "supreme leader" although he is more commonly referred to on state media as "chairman of the state affairs commission".
Critics accused the White House of "honouring" the dictator.
Others said that the depiction of Kim Jong-un on the coin was deliberately unflattering – appearing to give him some extra chins.
The White House issued a statement on Tuesday saying it "did not have any input into the design and manufacture of the coin."
Raj Shah, White House deputy press secretary, said in a statement it was common practice for souvenir coins to be ordered after the public announcement of a trip.