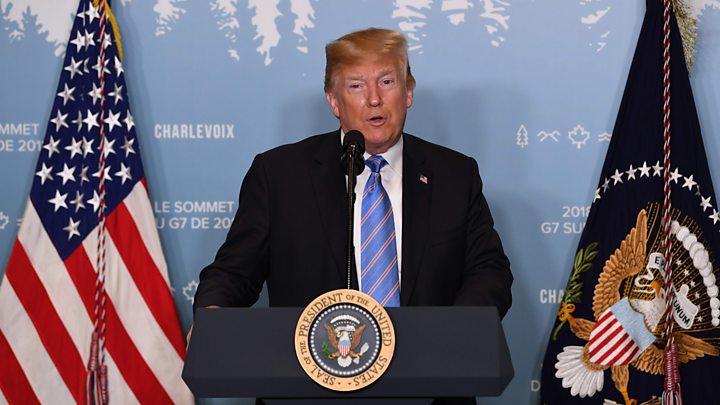 US President Donald Trump has said next week's summit with Kim Jong-un is a "one-time shot" at peace.
A meeting between Mr Trump and the North Korean leader Mr Kim will take place on Tuesday in Singapore.
Mr Trump described the summit as a "mission of peace", but said that the two leaders were in "unknown territory in the truest sense".
Mr Trump has now departed the G7 meeting of world leaders in Canada for the summit.
Speaking to the media before his departure, Mr Trump said the North Korean leader could do "something very positive for his people, for himself, his family".
Washington hopes the talks will kick-start a process that eventually sees Mr Kim give up his nuclear weapons.
The two leaders have had an extraordinary up-and-down relationship over the past 18 months.
When they finally come face to face on Tuesday morning at a hotel on the island resort of Sentosa, it will be the first time a North Korean leader has met a sitting US president.
How did we get here?
Mr Trump's first year in office was marked by bitter exchanges with Mr Kim as North Korea conducted several ballistic missile tests in defiance of international warnings.
The US president successfully sought to tighten UN sanctions on the North, and to get its traditional ally, China, to go along with this. He also famously vowed to unleash "fire and fury" if Pyongyang kept threatening the US.
In return, Mr Kim called him "mentally deranged" and a "dotard".
Despite the White House's "maximum pressure" campaign, the North remained defiant and carried out its sixth nuclear test in September 2017. Soon after, Mr Kim declared that his country had achieved its mission of becoming a nuclear state, with missiles that could reach the US.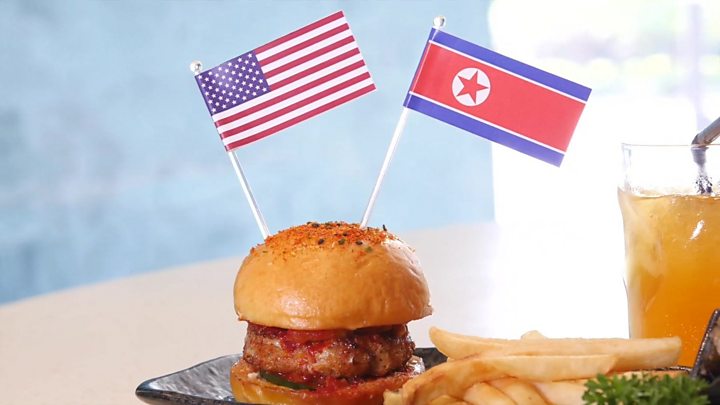 In early 2018, a remarkable turnaround in the relationship occurred. It started with significant diplomatic overtures from North Korea towards South Korea during the Winter Olympics in Pyeongchang.
In March, Mr Trump surprised the world by accepting an invitation from Mr Kim – delivered via Seoul – to meet in person.
Since then, the path to the summit has been rocky and uncertain, with Mr Trump at one point calling it off completely. But after some diplomatic scrambling, the two leaders will now sit down together.
What do both sides want?
The US wants North Korea to get rid of its nuclear weapons in an irreversible manner that can be verified internationally. Only when steps begin to be taken in that direction will it "receive relief" from the grip of UN sanctions, Defence Secretary Jim Mattis recently said.
But this does not mean the US is expecting to get a final deal in Singapore. President Trump has described it as a "get-to-know-you situation" and said "it's going to be a process".
Analysts say that Mr Kim, by winning the prestige of a meeting with the world's most powerful leader, has already gained a victory. They also question why he would give up his nuclear weapons after pushing so hard to get them. Some say he would never do it, perhaps unless everyone else on the Korean peninsula disarms too – including the US.
However, Mr Kim has also said he now wants to focus on building the North Korean economy – and thus wants sanctions relief and international investment. The question is what concessions he is willing to make, and whether he will stick to any promises made. Pledges to scrap the nuclear programme have been made before by his predecessors.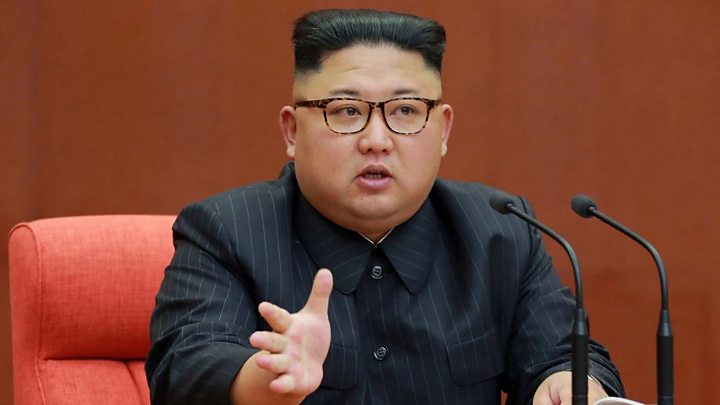 What could actually happen?
It's hard to say, but Mr Trump has signalled that they could sign an agreement to formally end the Korean War, which ended in a truce in 1953. Doing that, would probably be "the easy part", he said.
The US president has also said that if he thinks things are going badly, he will walk out of the meeting, but if things go well, Mr Kim could receive an invitation to the White House.
US Secretary of State Mike Pompeo, who has met Mr Kim twice in recent months, said he believed he "is prepared to denuclearise" and agree "big and bold" changes.
But the North Koreans have not given much away about their position.
Why Singapore?
It's a safe destination and the government has proven itself a reliable host for previous high-level meetings. Protests without a police permit are banned – so there's little risk of disruption.
Singapore is also a close US ally, while being one of the few countries that has done business with North Korea and still hosts an embassy. The Kims are also said to feel comfortable in the wealthy and hyper-modern country.
The pair will meet at the five-star Capella Hotel on Sentosa island, a luxury playground just off Singapore's main island. It's home to golf courses, private marinas, fine restaurants, a casino and a theme park. But they will both stay at hotels on the main island.
Access to Sentosa can easily be controlled – there is just a cable car, a monorail, a pedestrian causeway and a vehicle tunnel.
How are other powers seeing this?
South Korea has pushed hard for the summit and wants it to be a success. It has acted as a go-between between Washington and Pyongyang, and President Moon Jae-in wants a formal end to the Korean War. Marches in support of the summit took place on South Korea's capital Seoul on Saturday.
China, North Korea's traditional ally, will be watching closely. It does not want its strategic interests to be marginalised in any deal and moved to maintain influence before the summit by inviting Mr Kim to Beijing. Experts say its nightmare scenario in the long-term would be a reunified Korea with a US military presence on its borders.
Japan has long lived with the threat of living next door to the Korean peninsula – and its main priority is a strong commitment from Pyongyang that it will end its nuclear programme. However, Tokyo has also pushed the White House to bring up the politically significant issue of Japanese citizens abducted by North Korea.