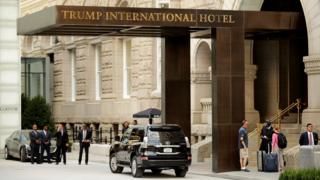 The US has published President Donald Trump's annual financial disclosure report, providing a glimpse of how the businessman's far-flung dealings fared during his first year in office.
The disclosure shows millions in 2017 income from rents, licences, book and television royalties, company shares, hotel management fees and golf courses.
He also had pensions, including $64,804 (£48,000) from the Screen Actors Guild.
Comparisons are difficult, since the previous report covered 16 months.
But some insights can be gleaned, in addition to the official disclosure of a reimbursement to his attorney for a payment to a porn star to hush her claims of an affair.
1. Stamp of approval for Post Office hotel
Mr Trump opened a new hotel in a former Post Office building in Washington in late October 2016, and it is now an important, although controversial, part of his business.
The report shows Trump Old Post Office brought in revenue of $40.4m in 2017, its first full year in operation.
Comings-and-goings there have been closely monitored for signs that businesses, foreign leaders and other interests might be trying to curry favour by patronising the establishment.
A tracker maintained by the Washington Post noted 59 political groups, 25 business groups and seven foreign governments have paid for events or visits there. Mr Trump himself has also visited 10 times.
2. The golf courses might have a presidential handicap
Critics have also accused the president of using visits and fundraisers to promote his Mar-a-Lago club in Florida and other properties, though they have also been the target of protests.
Golf's popularity is waning and it is not known how the resorts might have performed had he not been president, but the report does not reveal gains.
Mar-a-Lago earned about $25m in revenue in 2017, compared with about $37m in the 16 months from January 2016 to April 2017, according to the disclosures.
Assuming the earnings occur evenly throughout the year, Mar-a-Lago would have brought in about $28m in 2016.
Another Florida resort, Trump National Doral brought in $74.7m, compared with more than $115m on the previous report.
Trump Turnberry, his luxury Scottish resort, earned about $20m. In the previous report it brought in less, but it was closed for part of the time.
3. He has maintained a global footprint
Mr Trump's interests span the globe. The president reported income from ventures in India, the Philippines, the United Arab Emirates, Turkey and Panama, among other countries.
In Panama, where he lost a legal battle with his business partner, he reported hotel management fees of about $460,000, compared with more than $800,000 reported in the previous disclosure.
4. His book sales appear to be holding up
The president's deal-making style is under the microscope, as he threatens to tear up trade deals and impose tariffs – then invites negotiation.
People appear to be turning to his 1987 tome, "The Art of the Deal" for insight.
Sales revived during the presidential campaign and maintained that range last year, bringing in between $100,000 and $1m. And royalties from some of his lesser titles, like "How to Get Rich", increased.
5. He's dumped most of his individual stock holdings
Mr Trump once owned shares in a wide cross section of American companies, including McDonalds, Apple, Wells Fargo and PepsiCo.
But he has switched many of his investments to mutual funds and indexes, a move that could shield him from charges of favouritism.
Of course, Wall Street's ups-and-downs still matter to his bottom line.