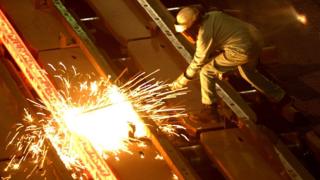 The Trump administration has extended negotiations on steel and aluminium tariffs for 30 days with Canada, the EU and Mexico.
It has also reached an agreement in principal with Argentina, Brazil and Australia.
In March, US President Donald Trump imposed worldwide tariffs of 25% on US imports of steel and 10% on aluminium.
Some countries were then exempted temporarily from those tariffs, including Canada, the EU and Mexico.
China was not included in the exemptions and it later retaliated with its own duties on some US imports.
Mr Trump responded by calling for further US tariffs against China, escalating trade tensions between the two giants.
South Korea was given an indefinite exemption in return for a 30% cut in its steel exports to the US.
"In all of these negotiations, the Administration is focused on quotas that will restrain imports, prevent transshipment, and protect the national security," a statement from the White House said.
The statement said the details of the agreements with Argentina, Brazil and Australia would be "finalized shortly".
Canada and Mexico had previously been given exemptions until 1 May while talks took place over Nafta (the North America Free Trade Agreement), as had Argentina, Australia, Brazil and the EU.
Those talks are due to resume next week.
Canadian Prime Minister Justin Trudeau said on Monday his government had been in regular contact with the White House on Canada's temporary exemption to metals tariffs.
Canada is the biggest importer of steel into the US.
The EU meanwhile had said it expected a "permanent and unconditional" exemption to replace the temporary measure that was set to run out on 1 May.
It said it would launch a series of countermeasures if that failed.
Meanwhile the UK's International Trade Secretary, Liam Fox, had said placing tariffs on UK exports would be "illogical" because some products sold to the US were destined for the American military.