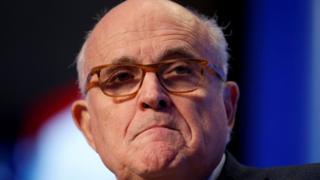 Donald Trump probably has the power to pardon himself in the Russia collusion affair but does not intend to do so, his lawyer Rudy Giuliani says.
A special counsel is investigating Russia's role in the 2016 election, and whether Mr Trump obstructed justice.
The question of self-pardon arose after the New York Times published a letter to the counsel from Mr Trump's lawyers.
In it they say he has absolute power as US legal chief to end investigations, or "even exercise his power to pardon".
Such absolute powers, they argue, mean that he could not have obstructed justice in any case.
What has Mr Giuliani said?
He appeared on ABC's This Week programme and was asked whether Mr Trump had the power to pardon himself.
Mr Giuliani, the head of Mr Trump's legal team, said he "probably does", but added: "He has no intention of pardoning himself."
He went on: "I think the political ramifications of that would be tough. Pardoning other people is one thing. Pardoning yourself is another."
Speaking on CNN on Sunday, House Republican Majority Leader Kevin McCarthy said that no president should pardon himself.
Why would Mr Trump need to pardon himself?
It all stems from the investigation by special counsel Robert Mueller into alleged collusion between the Trump team and Russian officials in the election campaign that brought the president to power.
Mr Trump has always maintained there was no collusion and that the investigation is a "witch hunt".
Part of Mr Mueller's investigation is looking at whether Mr Trump sought to criminally obstruct it, in particular with the sacking of ex-National Security Adviser Michael Flynn and former FBI director James Comey, and with his reaction to Attorney General Jeff Sessions' recusal from the investigation.
So could he do it?
No-one really knows. There is no precedent for a president trying.
In the case of former President Richard Nixon, the Justice Department said he could not pardon himself, but others argue it is not precluded in the US Constitution.
This latter theory was something touched on in the newly leaked letter.
So what is this letter all about?
It is dated 29 January and was sent to Mr Mueller by John Dowd, one of Mr Trump's lawyers who has since left the team.
The New York Times obtained the letter and published it in full.
It appears to be an attempt to show the president as untouchable. Its main points are that, because the president is the nation's chief legal officer, he:
Cannot be subpoenaed
Cannot be indicted
Cannot be guilty of obstruction of justice because, given his absolute powers, that would effectively mean obstructing himself
Citing the powers given to him by the Constitution, it says the president can "terminate the inquiry, or even exercise his power to pardon".
Mr Giuliani said himself last week that the special counsel's investigation may be "entirely illegitimate".
The leaking of the letter certainly displeased Mr Trump:
But that was dated a while back and the probe is still going?
It is indeed. Robert Mueller is not going away.
He has requested an interview with the president over obstruction of justice. Mr Trump has previously said he might be willing to attend but his lawyers appear opposed, fearing it could lead to charges of perjury.
Mr Giuliani told ABC: "It's beginning to get resolved in favour of not doing it."
If the president does not attend, Mr Mueller could try a grand jury subpoena but, as the letter above shows, the Trump team would try to block it.
The whole thing could end in a court battle over what can and what cannot be applied to a president.
In any case, any attempt to impeach the president over the Russia affair would be affected. That's a political process and pardons would not prevent it.