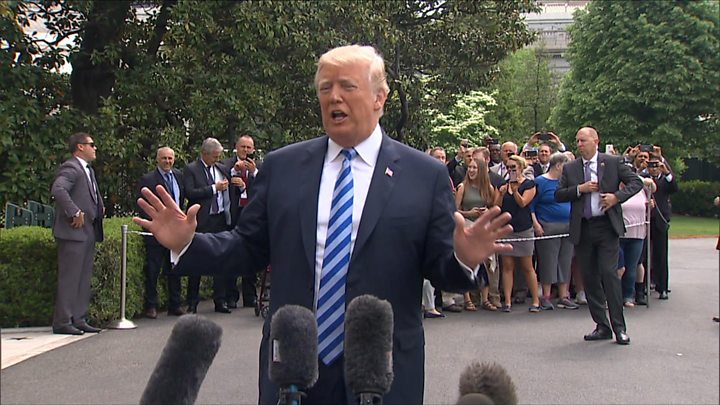 US President Donald Trump has said his new lawyer will "get his facts straight" about a legal case involving claims of an affair with a porn star.
Rudy Giuliani this week contradicted Mr Trump's statements distancing himself from hush money that was paid to adult film actress Stormy Daniels.
At the White House, Mr Trump said Mr Giuliani was new to the job and "wasn't familiar with everything".
The president did not specify what he thought his new attorney had got wrong.
"He started yesterday," Mr Trump told reporters on Friday, when asked about Mr Giuliani, as he left the White House. "He'll get his facts straight."
Before boarding Air Force One, he told reporters the former New York City mayor is "a special guy" who understands the "witch hunt".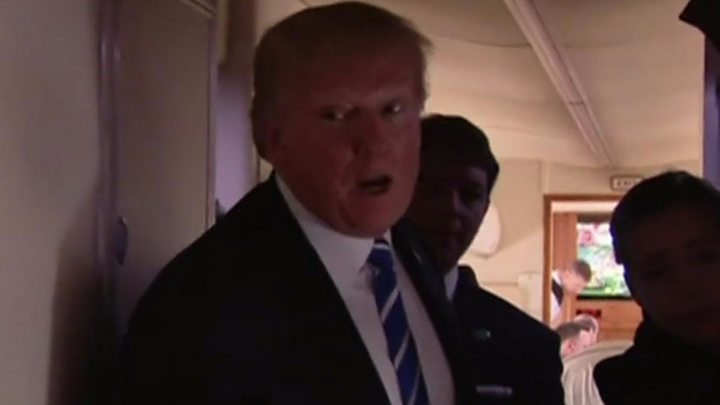 "I will tell you this, when Rudy made the statement, Rudy's great, but Rudy had just started, and he wasn't totally familiar with everything," the Republican president added.
When asked on Friday about his shifting statements regarding the payment, Mr Trump said: "We're not changing any stories."
He flew off to the National Rifle Association annual meeting in Dallas, Texas, where he and Vice-President Mike Pence are to speak.
Mr Giuliani said on Friday he would be issuing a new statement to clarify a "misinterpretation" of earlier remarks.
In a blitz of media interviews this week, Mr Giuliani addressed the $130,000 (£96,000) paid to Ms Daniels under a non-disclosure agreement.
The former federal prosecutor told Fox News that Mr Trump had reimbursed his other attorney, Michael Cohen, for the pay-off.
Only this month the president told reporters he had been unaware of Mr Cohen's payment to Ms Daniels, and did not know where the money came from.
Following Mr Giuliani's remarks, Mr Trump posted several tweets on Thursday morning about the matter.
The president said that Mr Cohen was not paid using election campaign funds.
Mr Trump also asserted that the payment was aimed at stopping "false and extortionist accusations" by Ms Daniels of an affair.
The payment to Ms Daniels – just before the 2016 presidential election – is a potential legal problem for the president because it could be seen as an illegal campaign contribution.
FBI agents last month raided Mr Cohen's home and office, seizing a number of files.
Mr Cohen initially denied to reporters that any money changed hands, but in February he admitted making the payment.
Ms Daniels, real name Stephanie Clifford, says she had sex with Mr Trump at a Lake Tahoe hotel in 2006, a year after his marriage to Melania Trump.
Mr Giuliani has said he is the president's new chief counsel in a Department of Justice investigation into whether Trump campaign officials colluded with Russians before the 2016 election.