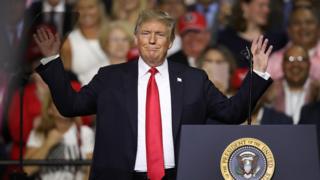 US President Donald Trump has been accused of being out of touch with voters after saying Americans need identification to go shopping.
At a rally in Tampa, Florida, he said: "You know, if you go out and you want to buy groceries, you need a picture on a card, you need ID."
Americans do not need to present ID at supermarkets, though they may be asked for it if they wish to buy alcohol.
The Republican president was arguing for tougher ID checks on voters.
"You go out and you want to buy anything, you need ID and you need your picture," he told the crowd at the "Make America Great Again" rally on Tuesday night.
"In this country, the only time you don't need it in many cases is when you want to vote for a president, when you want to vote for a senator, when you want to vote for a governor or a congressman.
"It's crazy. It's crazy. But we're turning it around."
It is not known when the president last went to a supermarket.
CNN journalist Jim Acosta tweeted: "Trump out of touch here… you don't need an ID to buy groceries."
Acosta was later heckled by Trump supporters live on air, shouting "liar" and "CNN sucks."
Being seen as out of touch with ordinary Americans has proved to be political kryptonite for many a US office-seeker.
In 1992, President George H W Bush was ridiculed after he expressed amazement at a high-tech supermarket scanner while attending a grocers' convention.
But the White House said Mr Bush was merely impressed the scanner could read damaged labels.
Hillary Clinton was mocked for revealing in 2014 that she had not driven a car for nearly two decades.
Barack Obama provoked scorn in 2007 when he tried to relate with Iowa farmers by saying: "Anybody gone into Whole Foods lately and see what they charge for arugula?"