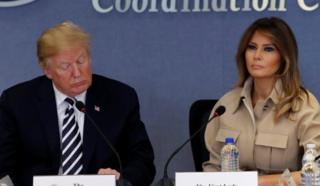 US President Donald Trump has lashed out at media reports about Melania Trump's rare public appearances.
"The Fake News Media has been so unfair, and vicious, to my wife," he tweeted on Wednesday, dismissing suggestions of a "facelift" or "abuse".
On Wednesday Mrs Trump made her first media appearance in weeks at a hurricane briefing with Mr Trump.
Last month she under went surgery and was in hospital for five days for a "benign kidney condition".
"She is doing great," Mr Trump said during the briefing at the headquarters of the Federal Emergency Management Agency to discuss hurricane season preparations.
"She went through a little rough patch, but she's doing great and we're very proud of her," he told members of the presidential cabinet as she sat by his side.
"The people of our country love you, so thank you, honey," he told her.
Mrs Trump did not speak while reporters were in the room, and wore a tan trench coat during her appearance.
---
The reluctant first lady
Analysis by Tara McKelvey, BBC News White House reporter
She didn't say anything while sitting next to her husband in a conference room at Fema headquarters. But her presence mattered.
In modern US history presidents have relied on their wives to humanise the office and to soften their own image. The First Lady – historically – is almost always more popular than her husband and helps to make him and his administration more appealing.
Mrs Trump has been a reluctant first lady, however, and her aides have shielded her from the public and the press (once she tried to speak with me during one of her rare public appearances, and an aide pulled her away).
Her visit to FEMA was her first on-camera appearance in public since 10 May. Her husband said she's been through a "rough patch", apparently a reference to her recent hospital stay, but was doing well.
Many were relieved to see her in public, and her good health – and her physical presence – were also a positive sign for the administration. His approval ratings have been relatively low since taking office, and he needs her to help shore up his support.
---
On Monday, she sat beside her husband at a private White House event for Gold Star families – parents of slain soldiers – but members of the media were not invited.
In a pair of tweets earlier on Wednesday, Mr Trump railed against ongoing media speculation about Mrs Trump's whereabouts.
He later said "four reporters" had spotted Mrs Trump at the White House last week "walking merrily along to a meeting".
But he said they did not report the "sighting because it would hurt the sick narrative that she was living in a different part of the world, was really ill, or whatever".
MSNBC co-hosts Joe Scarborough and Mika Brzezinksi, who are engaged, responded with arch tweets alluding to Mr Trump's taunting post last summer that Ms Brzezinksi was "bleeding badly from a face-lift" during a visit to his Florida golf retreat.
Republicans round on Trump over 'face-lift' tweet
Trump mocks TV host's 'bleeding facelift'
Last week, Mrs Trump's Twitter account addressed the rumours around her nearly-month long disappearance.
Wild theories have circulated online, including that Mrs Trump had moved back to New York with their son, Barron, or that she was co-operating with special counsel Robert Mueller.
Melania Trump tweets to quell rumours
On Sunday, the first lady's spokeswoman, Stephanie Grisham, confirmed that Mrs Trump would not be accompanying her husband to the G7 summit in Canada this week or the scheduled landmark North Korea nuclear summit in Singapore on 12 June.