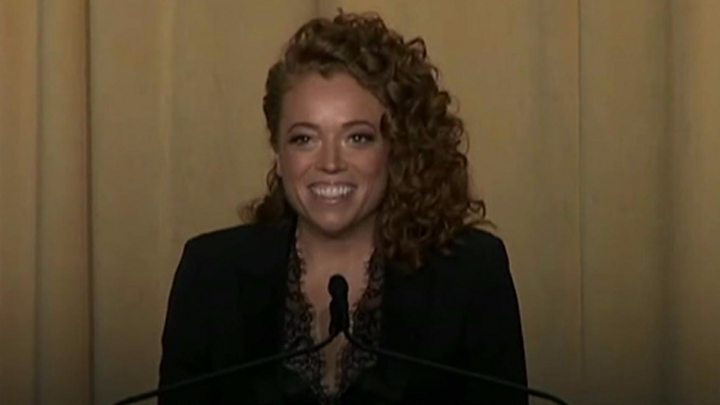 The US president has lashed out at comedian Michelle Wolf over her performance at Saturday's White House Correspondents' Dinner.
Donald Trump, who skipped the event for the second year, said the "filthy 'comedian' totally bombed" after she targeted him and his staff.
Wolf sparked both praise and condemnation for her scathing "roasts".
The organisation behind the annual event expressed regret at the divisiveness of the after-dinner act.
Margaret Talev, head of the White House Correspondents' Association, said the night was "meant to offer a unifying message about our common commitment to a vigorous and free press while honouring the civility, great reporting and scholarship winners, not to divide people".
"Unfortunately, the entertainer's monologue was not in the spirit of that mission," she said in a statement.
Among Wolf's most controversial – and often crude – takedowns was her blistering mockery of White House press secretary Sarah Sanders.
The former Daily Show contributor was criticised by some for commenting on Ms Sanders' appearance, comparing her to the matronly disciplinarian Aunt Lydia in The Handmaid's Tale, while others applauded her for attacking White House "lies".
Wolf has denied she took aim at Ms Sanders looks, and said "all these jokes were about her despicable behaviour".
Read more: Did comedian's Sarah Sanders 'roast' go too far?
For almost a century, it has been a tradition for US presidents to attend the White House Correspondents' Dinner and have fun poked at them.
But Mr Trump has boycotted the event since winning power, choosing this year instead to hold a rally for supporters in Michigan.
Read our coverage of previous dinners
Afterwards, he condemned the dinner as "an embarrassment to everyone associated with it".
Some White House aides who did attend the event walked out early, saying the performance demonstrated media bias.
Other commentators defended Wolf.
But the public backlash has led some journalists to call for changes to the dinner next year.
In her statement, Ms Talev said the White House Correspondents' Association was recognising the industry's concerns and was "committed to hearing your views on the format going forward".