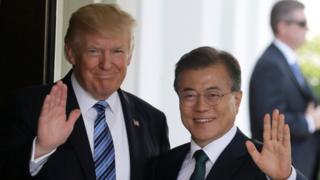 US President Donald Trump and South Korea's Moon Jae-in are due to hold talks in Washington, amid uncertainty over a planned US-North Korea summit.
Last week the North said it may cancel the summit if the US insists on it giving up nuclear weapons unilaterally.
Mr Moon will try to calm US nerves to get talks back on track, observers say.
One of his officials said he would "likely tell President Trump what to expect and what not to expect from Kim", Yonhap news agency reported.
The historic 12 June summit is due to take place in Singapore.
What has North Korea said?
The summit was first thrown into doubt when North Korea cancelled high-level talks with South Korea last Wednesday, saying it was angered by Seoul's joint-military exercises with the US.
The North called the exercises a "provocation" and a rehearsal for an invasion.
Pyongyang was then highly critical of US National Security Adviser John Bolton, whom it accused of making "reckless statements" after he suggested the North could follow a "Libya model" of denuclearisation.
That was a reference to Libya's former leader Muammar Gaddafi who agreed to give up nuclear weapons in 2003. He was later killed by Western-backed rebels.
What has been the US response?
Mr Trump later clarified that the US was not pursuing the "Libya model" for North Korea.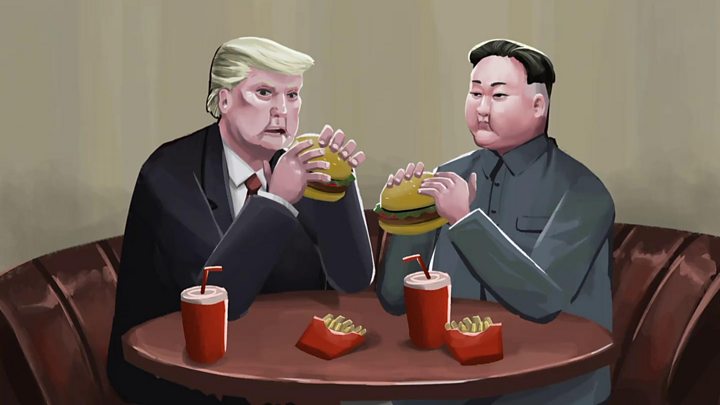 Ahead of the meeting with Mr Moon, US Vice-President Mike Pence warned Mr Kim not to "play" Mr Trump if they meet next month. Mr Pence said in a Fox News interview that such a move would be a "great mistake".
He also said there was "no question" that Mr Trump could walk away from the planned meeting in Singapore.
The New York Times reported on Sunday that the US president is asking aides and advisers whether he should continue to go forward with the summit.
Why is the summit so significant?
The planned summit first came about when Mr Trump accepted North Korea's invitation for direct talks earlier this year.
That followed more than a year of heated rhetoric between North Korea and the US, and global concern that the hostilities might escalate into military confrontation.
North Korea has conducted several nuclear tests over the past few years and has developed long-distance missiles it says can carry nuclear bombs as far as the US mainland.
If the summit happens, it would be historic as no sitting US president has ever met a North Korean leader.
Even then, is a deal likely?
Many observers believe the two leaders now have too much at stake for the summit not to go ahead.
However, Pyongyang's professed commitment to "denuclearisation" is likely to differ from Washington's demand for "comprehensive, verifiable and irreversible" nuclear disarmament.
North Korea has said it will start dismantling its nuclear test site this week, in a ceremony to be attended by foreign journalists.
Journey to North Korea's nuclear heart
Western, Russian and Chinese journalists are making their way to North Korea's remote Punggye-ri nuclear test site to witness its dismantling.
They have flown into the city of Wonsan. Tom Cheshire from the UK's Sky News says their onward journey will take in dirt roads and a two-hour hike to an observation area.
The site, in the country's mountainous north-east, is thought to be the North's main nuclear facility and the only active nuclear testing site in the world.
Testing has taken place in a system of tunnels dug below nearby Mount Mantap.