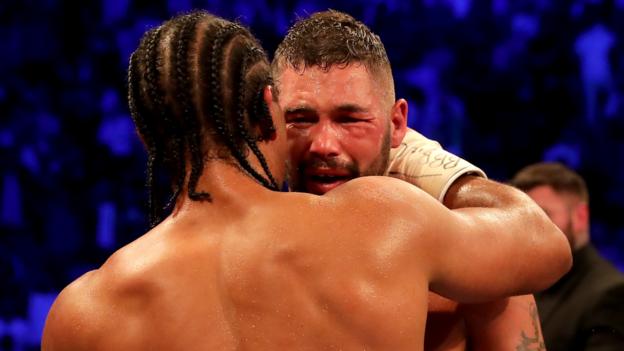 Tony Bellew set his sights on fighting Tyson Fury and Andre Ward after his stunning fifth-round stoppage of David Haye.
Bellew, 35, delivered three knockdowns on his way to a second heavyweight win in 14 months over his rival and fellow Briton at London's O2 Arena.
He said he would meet British former world champion Fury at heavyweight but only if the bout happened soon.
Bellew said American Ward "wants the fight" despite being retired.
"Ward thinks he can beat me easily," said Bellew. "I will knock him out."
Former two-weight world champion Haye, 37, did not attend the news conference after the fight.
Ward, 34, retired with a perfect 32-fight record in September and was regarded as the best pound-for-pound fighter in the world having won world titles at super-middleweight and light-heavyweight.
Any meeting with Bellew would likely be at cruiserweight, and Bellew's promoter Eddie Hearn said Ward is keen on a bout, which would be in the UK.
"You lot will laugh but I will beat Andre Ward," said Bellew. "I have a different set of skills to what he has seen before.
"I have all the respect in the world for him but he has never faced a fighter who can match him up close, fighting on the inside. He is Bernard Hopkins, just 20 years younger, but there are ways to beat him.
"I'll beat him but he'd go down as a far greater fighter than me."
'Fury isn't a big puncher'
Bellew said his 30th win from 33 fights did not trump his WBC world cruiserweight title win at Goodison Park in 2016 – home of his beloved Everton – and that Hearn must deliver something to motivate him once more.
Bouts with Britain's IBF, WBA and WBO world champion Anthony Joshua or WBC title holder Deontay Wilder have been ruled out, leaving a handful of other heavyweights to face or the prospect of moving down to cruiserweight.
"I'd love Tyson Fury. I'd love to knock him out," said Bellew.
"Timing is everything in this sport. I'm not saying I would have beaten him in Dusseldorf when he beat Wladimir Klitschko in 2015.
"Fury isn't a big puncher like Anthony Joshua or Haye. He's big, elusive and fast for a heavyweight. It's a fight I like."
Bellew admitted a fight with Fury would have to be soon in order to capitalise as the former WBA, IBF and WBO world heavyweight champion ends a spell of over two years out of the ring on 9 June.
Hearn does not think Fury would entertain that prospect and will instead pick less challenging opponents in his first fights back.
Hearn said: "When you see who Tyson Fury fights over the next three or four fights, he wont go near Tony Bellew."
'I asked Haye to please stop'
While Bellew has options, Haye looks closer than ever to retirement and many in the sport expect him to call time on a career which saw him become world champion at cruiserweight and heavyweight.
Haye told media in the ring he will watch a replay of the fight before making decisions, but did not speak to reporters later.
Bellew said Haye being prepared to fight up close played to his own strengths and that his rival was "bringing a knife to a gun fight" by doing so.
Bellew, who knocked Haye down twice in round three, said he asked referee Howard Foster to save Haye by ending the fight.
"We got up close and I banged him up," said Bellew. "He has never been out on the floor like that with shots to the chin. Wladimir Klitschko didn't even do that to him.
"His first words when he hugged me were that I'd done him. I said to him 'please stop'. This is a young man's game – a young man's game for the attributes that Haye relies on.
"Boxing does not favour fighters past 35 who fight on reflexes and explosive power.
"All the attributes he had over heavyweights over the years, he doesn't have any more.
"Don't detract from his career – he's an amazing fighter and will go down in history better than I ever will."
'Ashley will be smiling and laughing at me'
The rivalry with Haye has delivered Bellew the two biggest pay days of his career as their heated exchanges drew in fans on pay-per-view television.
But away from what Bellew calls the "circus", he faced family tragedy when brother-in-law Ashley died in a tragic accident in August while on holiday in Mexico.
By his own admission, Bellew was not mentally ready for a rematch in late 2017, which was postponed when Haye needed surgery on a biceps injury.
"I have had a disastrous eight months but somehow it all makes sense when I'm in the boxing ring," said Bellew.
"Emotionally I haven't really been there in this camp. It has been one of the worst I have had emotionally.
"At night, you cry yourself to sleep. My partner is broken. Tonight I had Ashley's dad sitting there by the ring and his brothers. I left an empty seat in row B for him. He was there and I dedicate this fight to Ash.
"I know he was watching, smiling and laughing at me. He's a Liverpool fan so he will be laughing at me with them in the Champions League final."