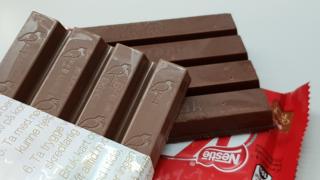 When is a Kit Kat not a Kit Kat?
If it's a four-fingered wafer covered in chocolate, the Kit Kat people would tell you they own that design.
Spare a thought, then, for identical treats like Norway's Kvikk Lunsj – pronounced "quick lunch" – which has been around for 80 years.
Nestlé has tried to trademark the chocolate bar's three-dimensional shape for more than a decade, which rival Cadbury has fought hard against.
The European Court of Justice is due to hand down judgement on Wednesday, which could end Kit Kat's protected European status and a saga that has proved expensive for both sides.
It could also open the door to own-brand imitations at your local supermarket.
A tale of four fingers
British and US readers may not even have heard of Kvikk Lunsj.
Norwegians, though, have national pride in the snack, and its long-running image as a meal on the go for healthy Scandinavian hikers.
Its chocolate has a different flavour from the Kit Kat, similar to parent company Mondelez's Milka brand. Taste-testing from the Guardian newspaper last year concluded that Kvikk Lunsj was, in fact, the superior product.
The Norwegian bar has been made since 1937, a mere two years after Kit Kat – originally called Rowntree's chocolate crisp – hit the market in 1935.
For 65 years, the two crispy treats lived together in harmony – until Nestlé went on the offensive.
In 2002, the global chocolate giant applied for a trademark in Europe for Kit Kat. There was no issue with the bar itself, embossed with the Kit Kat logo.
But it also applied for the trademark for the shape of a Kit Kat – or "four trapezoidal bars aligned on a rectangular base" as a top EU legal adviser put it.
After four years of back-and-forth, the EU trademark granted Nestlé the shape as a trademark.
The makers of Kvikk Lunsj, Mondelez, also owns brands including Cadbury, Milka, Oreo, and Toblerone – and Cadbury took issue with Nestlé's new trademark.
Mondelez also makes the Leo bar – another four-fingered chocolate treat.
In 2007, the court battle began in earnest, see-sawing from one side to the other during appeal after appeal.
What's in a shape?
In Europe, the most recent Kit Kat ruling is on whether the brand has become distinctive enough to deserve its trademark – essentially, that its shape alone was how people recognise the snack.
In 2016 the court decided that Nestlé had to prove a Kit Kat was recognisable in every EU country – and no evidence had been provided for Belgium, Ireland, Greece, and Portugal.
And none of the parties involved – Mondelez, Nestlé, or the European trademark office – is happy.
Nestlé and the EU trademark group appealed against the 2016 decision. If proof of distinctiveness had to be shown for every single member state, they argued, no company could ever reach that high standard.
Mondelez challenged other portions of the ruling, including the classification of Kit Kat as a biscuit rather than a chocolate bar.
But in April 2018, one of the top lawyers at the European Court of Justice, Melchior Wathelet, wrote an opinion for the judges.
His recommendation was to throw out Nestlé's appeal and stick to the 2016 ruling, annulling the European trademark.
The court often adheres to such recommendations – but doesn't have to.
Nestlé has been looking for Europe-wide protection for the Kit Kat shape, but there's also been an almost identical case in the UK.
That ended in a 16,000-page ruling that Kit Kat had "no inherent distinctiveness".
Triangular trials
European status aside, chocolate is serious business for trademark lawyers on a country-by-country basis. Cadbury lost its own trademark battle when it tried to register a shade of purple.
And back in 2006, a case involving gold chocolate bunnies asked similar questions to the Kit Kat saga.
Swiss chocolatier Lindt applied for a trademark for its Easter bunnies with a red ribbon, which are iconic in many countries – but not all.
In Germany, the Riegelein company also made gold-wrapped bunnies, and the case made it to both European and German courts – where Lindt eventually lost.
And while Mondelez claims you can't trademark the shape of a Kit Kat, it's sure you can trademark a Toblerone – which it owns.
Toblerone's shape was registered in 1998 – but was only put to the test last year, when British retailer Poundland designed an off-brand version.
Featuring two rows of triangular bumps rather than one, Poundland argued that its copycat wasn't a trademark infringement – especially since Toblerone had changed the shape of their UK product to reduce weight.
That disagreement was settled out of court.