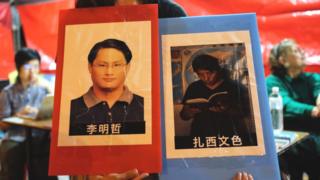 A Tibetan activist has been jailed for five years in China for "inciting separatism," after he spoke to the New York Times about efforts to preserve his native language.
Tashi Wangchuk was arrested in 2016, after featuring in a video by the newspaper.
In the interview, he spoke of his fear that Tibetan culture was being destroyed in China.
Amnesty International denounced the verdict as "beyond absurd".
Tashi, who pleaded not guilty to the charges, will be due for release in 2021.
His lawyer told the AFP news agency that he planned to appeal the decision.
"I believe he committed no crime and we do not accept the verdict," Liang Xiojun told AFP.
Tashi appeared in a New York Times documentary in late 2015, where he voiced concerns that Tibetan culture was being destroyed in China.
He attempted to file a lawsuit in Beijing against local officials in his hometown, Yushu, saying they were sidelining the Tibetan language in favour of Mandarin in schools.
Mr Liang told reporters at Tashi's trial earlier this year that the video was used as a key piece of evidence by the prosecution.
"He doesn't believe he's incited separatism," Mr Liang said. "He only wants to strengthen Tibetan language education."
Joshua Rosenzweig, East Asia research director at Amnesty International called the verdict a "gross injustice".
"He is being cruelly punished…to brand peaceful activism for [the] Tibetan language as 'inciting separatism' is beyond absurd," he said in a statement.
Tibet, a remote and mainly Buddhist territory known as the "roof of the world", is governed as an autonomous region of China.
Beijing says Tibet has developed considerably under its rule. But rights groups say China continues to violate human rights, accusing Beijing of political and religious repression – something Beijing denies.