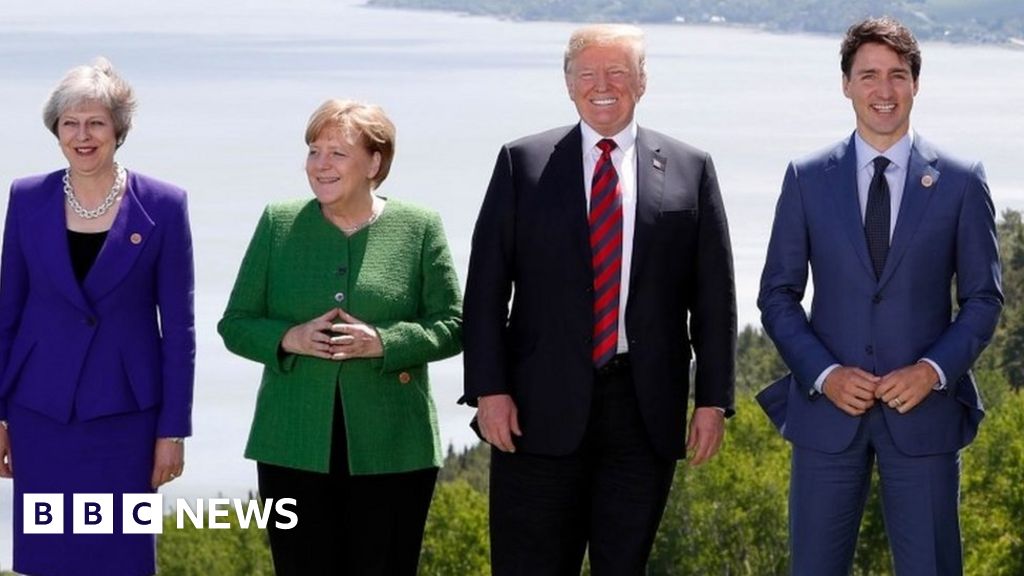 The G7 summit was a "difficult" occasion, Theresa May has told MPs, with "strong disagreements" between the US president and other world leaders.
While there was "common ground" in some areas, she said she was "deeply disappointed" by US trade policies.
Pledging to uphold the rules-based order, she said disputes could not be solved by nations taking "unilateral action against their partners".
Jeremy Corbyn said Donald Trump was to blame for the summit's "failure".
The meeting of world leaders in Canada ended in disarray after the US President retracted his support for their agreed communiqué and then criticised Canadian prime minister Justin Trudeau on social media.
In a statement to MPs on the summit, Mrs May praised Mr Trudeau's "skilful" handling of proceedings and said the UK would honour all of the commitments agreed, on security, the environment and other issues.
On trade, said she had been "very clear" that US tariffs on European steel and aluminium imports were damaging and dialogue was needed to ensure the dispute did not escalate into a full-blown trade war.
'American First'
She said US concerns that some countries were "not playing by the rules" when it came to international trade could not be ignored but they must be addressed multilaterally, for instance through reform of the World Trade Organisation.
"It cannot be done by taking unilateral action against your partners," she said.
She acknowledged the EU would have to respond to the tariffs with its own penalties on US imports but she hoped that it would not lead to wider "tit-for-tat" reprisals.
---
Trudeau tribute
By James Landale, BBC diplomatic correspondent
Theresa May did not mention Donald Trump once during her seven minute summary of her weekend in Canada. But point by point, she challenged the US president's own conclusions.
She told MPs of the importance of G7 summits: the shared effort to promote the rules-based international order, the need to make global trade work for everyone, the action to protect our oceans from plastics.
Where Mr Trump had accused the Canadian Prime Minister, Justin Trudeau, of being "dishonest and weak", Mrs May went out of her way to pay tribute to his leadership.
And where the US president had withdrawn his support for the G7 communique, Mrs May pointedly made clear the UK would honour its commitments.
Mrs May admitted that it had been a difficult summit – but said continued dialogue was the only way to resolve the challenges the world faced.
It is an approach that may be tested next month when Mr Trump attends the Nato summit in Brussels before paying his first presidential visit to the United Kingdom.
---
"The loss of trade through tariffs undermines competition, reduces productivity, reduces the incentive to innovate and, in the end, leaves everyone poorer."
More broadly, Mrs May said the UK would continue to promote the "international rules-based order" which she said had brought peace and prosperity to Europe for so many years.
"This was a difficult summit with at times some candid discussions but the conclusion I draw is that it is only through continued dialogue that we can find ways to work together to resolve challenges we face."
Mr Corbyn said the US President and his "American First" policy was squarely responsible for the breakdown in trade relations between the US and Europe.
"The problems facing leaders is that the White House is inhabited by a president committed to his slogan.
"That has meant the dismantling of multilateral agreements, the pulling out of the Paris climate change accords and the destabilisation of the Iran nuclear deal, and now the imposition of tariffs on steel and aluminium."