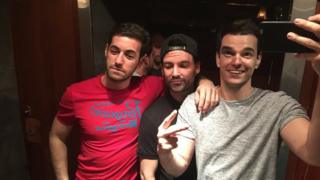 "Police! I have just resolved a crime via Twitter! You need to deal with it immediately," wrote a Spanish social media user going by the name of Mr Brightside on Saturday afternoon.
He then proceeded to unpick what appeared to be a murder case, in great detail over 100 tweets.
With limited followers, he had not been expecting much reaction. He says he is still overwhelmed by what happened next.
More than two million people have interacted with his gripping whodunnit so far. The story centres on Jorge A, whose apparent death in Barcelona was ruled a suicide, but who – according to the thread – was killed as a result of an elaborate polyamorous plot.
Mr Brightside claimed he could prove it largely based on one photo.
His posts were shared widely across the Spanish-speaking world, from Madrid to Bogotá and beyond.
Spanish police appeared to give it credence too, tweeting a reply. "Your research confirms the report of our investigators," they said, before adding an advisory: "If you are a victim of sextortion, the police will help you. Don't give in to blackmail."
It was an extraordinary story.
Except none of it was true.
So, who did the whodunnit?
The story was created for a competition organised by Twitter Spain, where users were asked to tell a story via a series of tweets, threaded together.
However, this entry was so compelling its reach spiralled out of control and it became an unintentional lesson in the power of fake news and internet manipulation.
Many readers guessed it was fiction. They either found clues that all was not as it seemed, or recognised the hashtag added to the very last tweet – #FeriadelHilo (meaning "thread festival", the competition's name).
In fact, police had not been fooled either. Their response also gave a nod to the competition's hashtag – and, realistically, the police would never convict a murderer via Twitter.
Two days after the thread went viral, a graphic designer from Madrid, Modesto García, came forward as its author, saying he had made it all up.
"I did not ask them to collaborate in the story," he says of the police involvement. "They did it because they wanted to and, thanks to that, the story gained a lot of credibility."
Over the past few days, Mr García's creative writing has gained many fans. "This should be a Netflix series!", "Your tweets are like Agatha Christie!" said some. But there were also critics who felt duped. "I believed the whole thing!" wrote one with a series of crying emojis.
Who 'died'?
The fake case centred on a fictional Jorge, a 30-year-old from Bilbao who had recently moved to Barcelona.
Modesto García's alter ego – a citizen journalist called Mr Brightside – said he had been following Jorge's Twitter account and was puzzled by his sudden death by suicide, so he decided to dig deeper.
And there followed dozens of tweets, as he pieced the crime together using "evidence" that included a string of social media accounts, Whatsapp messages, and even a newspaper article about Jorge's death. All of them had been invented by Modesto García.
How Mr Brightside solved the 'crime'
The thread hinged on a photo supposedly posted by Jorge's friend, Luis, as a tribute after he died.
It was said to have been taken in front of a mirror in a club in Barcelona, hours beforehand.
Jorge – the "dead man" (circled above) – was in the middle; Luis was taking the selfie. Through more social media snooping, Mr Brightside finds out the man on the left is called Felipe.
Mr Brightside then looks back at Jorge's past tweets and begins to get suspicious, so he starts combing the three men's tweets for clues and connections.
Along the way, he spots various oddities that imply that Jorge could have been superimposed into the picture as part of a cover-up. For example, Jorge's tattoo of the word "Freedom", which, if he were truly in front of a mirror, should have been reversed, but isn't. (He even has past tweets of Jorge unveiling his new tattoo as "proof" of how it looked originally.)
There are other clues, such as the watch on Felipe's arm that reads 05:55, even though news reports he quotes say Jorge's body was found at 05.30.
There follow dozens more tweets, with more details and more suspicions as Mr Brightside tracks down the other men in the background – all invented characters with invented social media accounts.
He shares apparent Whatsapp conversations and private Twitter messages he has with them.
These background characters finally lead him to another suspect: a Briton in Barcelona called Will. Was he sexually involved with the others in the picture?
Oddly, at this point, one of my own year-old tweets is used as "evidence" of the suspect's sexual preferences. I once tweeted a BBC story about three-people couples and "Will the Brit" finds it and likes it.
The internet sleuth then deduces that Luis, Felipe and Will were in a three-way relationship. And Jorge had been caught in the middle, which ultimately leads to his death at Will's house and the need to pretend he was elsewhere beforehand.
The final moment of suspense comes when he confronts Will with an accusation.
"You have the wrong person, I don't know what you are talking about," the suspect replies, forcing Mr Brightside to explain that he knows about the manipulated photo.
Mr Brightside captures their exchanged Twitter messages – and the tell-tale animated ellipsis marks, which show that Will is carefully considering his response.
Then, finally, Will responds: "What do you want?", which Mr Brightside takes as his confession.
The debunk
Two days later, after the enormous outpouring of interest, Modesto García showed how he did it.
None of the people in the images were real. He created their faces via a mix of his face with his friends. Many of the crucial details – including the watch and the tattoo – were added via Photoshop.
He created the social media profiles using stock images and populated the accounts with unrelated tweets to make them look active and genuine – a technique used by those who create legions of trolls for political purposes.
However, he also made a mistake in creating them all on the same day – which some eagle-eyed readers noticed as a giveaway.
Mr Modesto told the BBC that he is utterly shocked by the story's popularity.
"People have written to me from Brazil, Ecuador, Mexico, the Dominican Republic, Peru…"
They have even created memes, replacing the figures in the picture with their own suggested suspects.
Mr Modesto said he has also been contacted by people who still believed it was true; they were sending condolences about Jorge's death and insults towards the murderer.
He says he did not plan it as a fake news experiment. However, it comes hot on the heels of another faked murder – that of a genuine Russian journalist, Arkady Babchenko, whose death was staged by Ukrainian authorities at the end of May.
"I only expected 200 people to like it, at most," said Mr Modesto of his thread. After the huge interest, he has reflected on the impact his story has had. "The moral is: don't believe everything you read on the internet."
Twitter Spain will announce the winner of the thread competition on Friday. The first prize includes €500 (£440; $590) in cash and a smartphone.