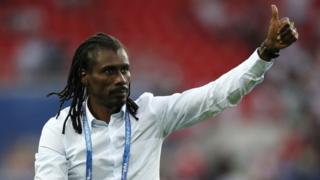 Senegal's national football team coach Aliou Cissé is a perfectionist.
He is known for his attention to detail and no-nonsense approach.
It's a trait that dates back to the time as captain of the Lions of Teranga.
He led his country to the 2002 World Cup quarter-finals in South Korea and Japan.
That was a highlight in a career of mixed fortunes.
In the same year, Senegal lost the Africa Cup of Nations (Afcon) final to Cameroon in Mali.
He was to end his football career in 2005 without a trophy for his country.
That failure has spurred him on to succeed as a coach.
Sheer determination
Salif Diao, who played with Cissé between 2000 to 2005, remembers him as a fighter.
"The day we lost 2002 Afcon final to Cameroon, we were sharing rooms," Diao says.
"Cissé was so gutted and he said to me: 'Salif, this trophy was in my hands. I was holding it with one hand and Cameroon stole it from me'."
Diao says he also remembers Cissé vowing "if I don't win it as a player, I will win it one day as a coach".
This level of determination and willpower has been a permanent feature of his career.
It's no wonder he has earned the distinction of being the only black coach at the 2018 World Cup, though he is vehemently opposed to categorisation based on skin colour.
Arguably, his career and life in general has been one of heartbreaks.
"His determination makes him who he is and that's why he was our captain," says former teammate Salif Diao, adding:
"He had the voice, he had the words that needed to be put on the table to get everyone going.
"After he gave a speech to the team, we all would put on the mask of a lion."
Cissé was born in 1976 in Ziguinchor in the Casamance region, the area where Senegal's star player, Sadio Mané also comes from.
His football career began in Senegal before he moved to France and England.
At 42, he is also the youngest manager at the World Cup.
Kara Thioune, a Senegalese journalist travelling with the Senegal national team in Russia, says Cissé is a born leader.
"He is the embodiment of a real lion. He is very proud and confident in himself. He believes that the sky is not even his limit," says Thioune.
Cissé's rise has also been organic.
His coaching career started in 2012, when he was appointed assistant coach of the Senegalese Under-23 team, before becoming the substantive coach in 2013.
In 2015 he took over as head coach of the national team.
Senegal hope to qualify for the final 16, requiring at least a draw in today's match against Colombia to do so.
It follows their earlier 2-1 win against Poland, and a 2-2 draw with Japan.
'He is a soldier'
Football journalist Thioune believes Cissé's success lies in the relationship he has forged over the years with members of the current squad.
"They respect him because he helped most of them to become the superstars that they are today," he says.
"He is like a good father who plays and jokes with his kids, but when it's time to gets serious he becomes a soldier.
Thioune says head coach Cissé also drills his team as if they were soldiers, adding:
"When it's time to sleep, they all sleep, when it's time to eat they are expected to eat. He has a very tough code of conduct which is respected by everybody."
Despite his achievements both as a player and coach, Cissé is yet to earn universal respect at home.
He is often criticised for lacking strategy and the necessary guile to lead Senegal to its first major title.
Thioune believes Senegalese people "owe him respect" for what he has done for the country.
"At this tournament I believe he can reach the quarter-finals," he says. "Senegal can be a surprise with his determination."
For Senegal's Sport Minister Matar Ba, Cissé is the embodiment of "blackness", showing there is no reason to be seen as inferior simply because you are African.
"We did not make him our national coach [simply] because he is an ex-player", Mr Ba says. "He is a patriot who has shown love for his country and is made of steel.
"That's what we wanted him to transmit to the players and that is what he did. He is the pride of our our country," adds Mr Ba.
Cissé's mission is to do well and pave the way for other African coaches to manage at the highest level.
He joins the late Nigerian Stephen Keshi as the only black African coaches to have led teams at the World Cup.