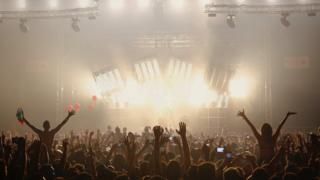 Afrobeats has dominated African pop charts for the last few years – but now it faces a challenger for its crown.
Afro EDM – "Electronic Dance Music" – is zipping towards the main spotlight in all its frenetic glory.
Its mix of percussive electronic music genres – think house, techno, drum and bass, and trance – combined with the funk and soul of Afrobeats is winning fans around the globe.
And it is easy to see why: put simply, if Afrobeats makes the heart beat, then Afro EDM will probably make it race.
'Rough but creative'
Afro EDM has actually been around for decades, with young people in South Africa using kwaito to express their post-apartheid freedom.
But it has taken access to the 21st Century's technology to really get the African EDM to flourish.
And now it will take centre stage at the Sónar Festival in Barcelona, Spain, next weekend as the three-day event puts on a special showcase of African musicians, both established and up-and-coming.
Co-founder Enric Palau could not be more excited.
"Some of these artists are coming to our festival where there is high technology everywhere but they bring their homemade technology which is sometimes rough but it's so creative," he tells the BBC.
So who are the artists you should be looking out for? Meet some of them below:
Black Coffee
"We want to bring back power of the music to the people."
"Master of kwaito" Kosinathi Innocent Maphumulo, better known by his stage name Black Coffee, is one of the world's most respected music producers, having remixed tracks for Alicia Keys, Hugh Masekela and Drake.
It could have been different. He was offered – and turned down – his first contract with a big label back in the 1990s.
"It's quite important for an artist to own its master so I didn't want to be signed to just another record label," he explains.
"It would've been easy to accept as I had nothing, I had no career and could hardly pay rent."
The decision paid off. With an Ibiza residency under his belt – not to mention five studio albums – he is now bringing out his own streaming service in Africa for artists to control their music.
"With our background as a country, even with music, it was the same where a lot of wrong people were credited," he says.
"I'm now trying to legitimise the business and want to create an industry not owned by a multinational company in Japan, taking all the bigger portion of the money."
Mr Eazi
"People will start categorising our music properly, the bigger it gets."
Nigerian-born Mr Eazi is arguably Africa's biggest star at the moment.
Oluwatosin Oluwole Ajibade was studying engineering in Ghana when music caught his eye.
"During my masters I had some free time and did recording as a hobby," he says.
Skintight, released in 2015, launched his career.
"I've been doing it ever since."
Find out more:
Technically classified as Afrobeats, he considers his style – a fusion of pop from Ghana and Nigeria mixed with his own "laid-back style of singing" – independent and innovative.
It clearly works. In the last three years he has worked with stars like Efya, Rudimental, French Montana and Justin Bieber, while his label recently signed a new international record deal with Colombia UK.
His latest hit London Town, a nod to his current home in the UK, is a collaboration with grime MC Giggs.
"With my success, I don't want to blow my own horn – I just like to think I'm one of the ambassadors of a new sound from Africa," he says.
"It's definitely not world music," he adds, laughing. "It's more experimental than that.'
Kampire
"Many Africans bristle at this title 'world music' because it's in the past."
Ugandan DJ, artist and writer Kampire Bahana's sets of bass-heavy music are very much inspired by her upbringing in a mining town alongside Zambia's copper belt.
"I grew up listening to music that my dad played in the car, Congolese lingala, anything with soukous guitar and a beat on it – I was immediately attracted to it," she explains.
She got onto the decks in 2013 after her involvement with Nyege Nyege, a collective of musicians in the Ugandan capital, Kampala.
But what is it like to be a woman in such a male-dominated industry?
Largely supportive, says Kampire, who is making her debut at this year's Sonar Festival.
"Of course there are annoyances – the club scene can be sexist," she adds.
"I've been out and someone has tried to grab me or if I enter the booth to play, the security think I am a groupie.
"I say: 'No, I'm actually here to play.'"
KOKOKO!
"Nothing won't stop us, we've had enough of the old music scene"
What do you do when you love music, but don't have access to any instruments?
If you are a member of the Democratic Republic of Congo's six-person protest collective KOKOKO!, you create your own from scrap.
This is what helps gives this group its original sound, which they call "tekno kintueni" or "zagué", inspired by the everyday sounds around their hometown of Ngwaka, mixed in with a frenetic trance.
Find out more:
The result is "a bit extreme for the world music crowd", acknowledges producer Débruit, who was linked up with the childhood friends by local company Kinoise production.
"This is not a polished sound – it's raw energy with strong artistic intention," he explains.
"Young people are starting to think creatively and use whatever technology they can to create a new sound.
"We've had enough of Congolese rhumba because the elders control the scene like a mafia so KOKOKO! is about protesting that and expressing their own voice."
Distruction Boyz
"Our dream is to see people from India to New Zealand jamming to a song we made in our backroom."
Growing up in KwaMashu township, near Durban, South Africa, childhood friends Thobani "Que" Mgobhozi and Zipho "Goldmax" Mthembu knew they would make it big one day – they had no choice.
"It was a dangerous place so we really wanted to get out," Que says.
In 2012, inspired by raw South African house music known as gqom, they start developing their sound in their bedrooms with the help of "a very small PC that didn't even stand up properly".
Their parents "didn't understand it at all", urging them "to get normal jobs".
But that wasn't the only problem.
"Our songs couldn't get airplay, so we cleaned up the sound in order for you to listen to it for a whole day and not get a headache!"
It worked. Their debut album was rated gold in South Africa – a first for gqom, a genre which has been criticised for allegedly encouraging drug use.
And now they are heading for Barcelona.
"Sonar is big for us," says Que. "We want to keep pushing the sound to compete with hip hop, R'n'B and jazz so that everyone around the world will jam to it."
As for their parents: "We can look after ourselves and them – they understand us now!" laughs Que.
Sónar Barcelona – Music, Creativity & Technology will take place on 14 – 16 June 2018, Barcelona.