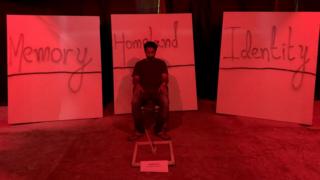 An art exhibition bringing together Hindu artists – who had to flee Indian-administered Kashmir – with their Muslim counterparts has struck an emotional chord with locals, reports Sameer Yasir.
Avtar Krishan Raina, a Kashmiri Hindu or Pandit, has returned to the home he fled for the first time since he left in 1990 in order to participate in a unique exhibition that has brought artists and sculptors from his community together with Muslim artists.
Mr Raina is one of an estimated 200,000 people in his community who were forced to leave the state in the early 1990s under threat from Muslim militants who had initiated a violent insurgency against Indian rule in the region.
One day, he says, he came home to find that separatist militants had stuck a poster outside his home. It demanded that he poison his dog, which barked whenever they were around.
He realised they could all be killed during that "terrifying month" when a majority of the Hindus left.
"I took nothing with me and fled," said Mr Raina, who now works as a painter in the central state of Madhya Pradesh. "I could never come back and had no interest in doing so either."
But when he arrived at the exhibition, he was greeted by an old friend – Mohammad Ashraf.
The former top bureaucrat had brought along a painting. He said it was the only thing he had saved from his home when Kashmir was ravaged by floods in 2014.
"Remember, it was you who painted it in 1985," Mr Ashraf told Mr Raina. "I fled the house with nothing but this painting."
Mr Raina held the painting in his hands as tears rolled down his cheeks.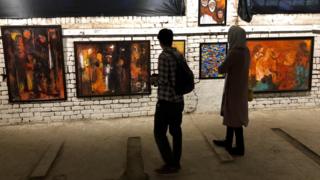 It is exactly this kind of reconciliation that the organisers of this exhibition have been hoping for.
"Art is dialogue and conversation about difficult subjects," said Mujtaba Rizvi, a Kashmiri Muslim art promoter, who decided to host this exhibition along with contemporary artist Veer Munshi.
"A lot of barriers and misconception were removed. The art can become a medium of social intervention."
Housed in the ruins of a century-old building that was once a famed silk factory in the state capital Srinagar, the seven-day exhibition runs until Sunday.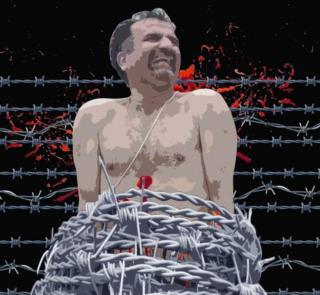 "Only art has the power to build bridges between communities," said Ratan Parimoo, a Kashmiri Hindu and art historian.
The temporary gallery is filled with art that reflects the depth of conflict suffered by the region.
In one piece, a naked man bound by barbed wire sports a defiant smile – a sacred thread strung across his torso is the only indication that he is a Kashmiri Hindu.
"This is the story of the common man in Kashmir – whether they are Muslim or Hindu," said artist Chushool Mahaldar, whose painting is a self-portrait titled Struggling Smile.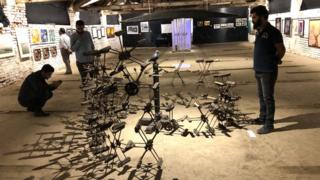 One installation by Mr Munshi features spinning objects. "It portrays how difficult it is to come out of conflict once you are in it," said Mr Munshi, also a displaced Hindu.
In the centre of the exhibition space lies an installation which, according to the artists, shows how Kashmir has been turned upside down in recent times.
"It is important to look at the other side of the boat, which is always under water," said Mr Munshi.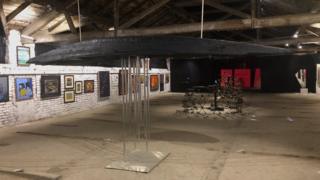 At the entrance to the exhibition is a 30ft (9.1-metre) long painting by Mamoon Ahmad, a Kashmiri Muslim artist. The ink drawing depicts a forest in which you see bones and trees – a reference to life amid death.
The piece was inspired by the Urdu word ruveda, which means to "walk gently".
This, he added, tells the story of conflict in Kashmir – "by walking on its side, we are walking to bridge the gap between Hindus and Muslims".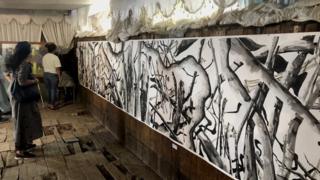 Despite the current political uncertainty – the fall of the coalition state government between India's ruling Hindu nationalist BJP and the regional PDP – hundreds of curious residents thronged the venue.
"It is heart wrenching, but a difference experience," said Saiba Khan, an art student at a local college.
Ms Khan said she had never seen a Kashmiri Pandit in her life, let alone an artist from the community.
"It is as if their work, paintings and installations make this show complete."
Photos by Sameer Yasir