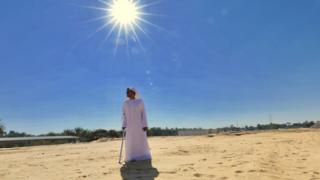 Faisal Mohammed Al Shimmari farms in some of the most extreme conditions in the world, at Al Ain, an oasis in the United Arab Emirates desert, where temperatures can reach 50C.
"It's expensive as we have to buy water regularly to irrigate these plants," he says.
Farmers have to use tankers to bring in water, and in the desert farms use almost three times as much water as those in temperate climates. This makes farming in the desert impractical so the UAE imports about 80% of its food.
Yet for many, this might be the future of farming. Increased drought, deforestation and intensive farming methods are turning an area half the size of Britain into desert each year.
According to the United Nations Convention to Combat Climate Change, by 2045, 135 million people could lose their homes and livelihoods to desertification.
That raises the challenge of how to grow food in increasingly hostile conditions, but one scientist has come up with an innovation that could turn those deserts green again.
Liquid clay
Norwegian scientist Kristian Morten Olesen has patented a process to mix nano-particles of clay with water and bind them to sand particles to condition desert soil – he has been working on Liquid Nanoclay (LNC) since 2005.
"The treatment gives sand particles a clay coating which completely changes their physical properties and allows them to bind with water," he says.
"This process doesn't involve any chemical agents. We can change any poor-quality sandy soils into high-yield agricultural land in just seven hours."
Kristian's son Ole Morten Olesen, who is also the chief operating officer of the company they founded, Desert Control, says: "We just mix natural clay in water that is inserted into the sand which creates half a metre layer into the soil that turns the sand into good fertile soil."
Normal sand particles are very loose, which means that they have a very low water retention capacity.
But when you add Liquid Nanoclay to the sand it binds those sand particles together, says Kristian, which means it can hold water for longer, "increasing the possibility of agricultural yield".
UAE trial
Back in the UAE, Faisal agreed to host a trial of Liquid Nanoclay last December, and two areas were planted with a selection of crops: tomatoes, aubergines and okra.
One was treated with LNC while a second control area was left untreated.
"I am amazed to see the success of LNC," says Faisal. "It just saved consumption of water by more than 50%, it means now I can double the green cover with the same water."
He says that the untreated area used almost 137 cubic metres of water for irrigation and the one treated with LNC used just 81 cubic metres.
"I can double the farming area using the same amount of water I was using before," says Faisal.
The cost of treatment per hectare (2.4 acres) of desert varies from $1,800-$9,500 (£1,300-£6,900) depending upon the size of the project – which currently makes it too expensive for most farmers.
The soil requires a 15%-20% retreatment after four or five years if the land is tilled and if untilled then the treatment lasts for longer.
Desert Control says initially it will target municipal governments and commercial growers, but eventually would like to make the cost accessible to all growers.
"This is a great game changer" for farmers in arid areas, says Kristian.
Part of our series Taking the Temperature, which focuses on the battle against climate change and the people and ideas making a difference.
This BBC series was produced with funding from the Skoll Foundation