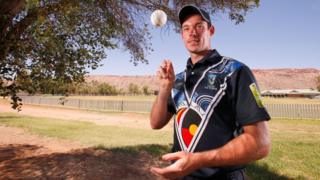 When cricketer Nick Boland walks out on to The Oval in London next month he will be wearing the Aboriginal flag on his sleeve and the name of another player on his back.
That player, Grongarrong, was a batsman in Australia's first international sporting side – an indigenous cricket team that toured England in 1868.
The 13 Aboriginal players who went on the tour deserve to be better acknowledged today as pioneers, according to Australian cricketers and officials.
"It's a story that hasn't been told enough," Mr Boland tells the BBC.
He is part of an indigenous men's team that, along with a women's side, will travel to the UK in June to play in a commemorative tour 150 years on.
"Our roles as players in the legacy of this tour is to become the next generation of storytellers," he says.
'Colonial circus'
The 1868 team was made up of Jardwadjali, Gunditjmara and Wotjobaluk men from what is now the state of Victoria.
Having played a few games in Australia, they were brought to London by a former first-class cricketer, Charles Lawrence, an expat who had been living in Sydney.
Modern views of the 19th Century tour are complex. Although remembered as a landmark event, the tour has also been criticised as racist and exploitative.
The tour was organised "purely for money-making purposes", according to Greg de Moore, an author who has researched the tour.
"Here [spectators] were watching what many saw as savages – some sort of zoological curiosity – playing the most imperial and English game of cricket, and playing it very well," Dr de Moore says.
"It would have been a very disturbing realisation to many colonialists that perhaps if given the same opportunities, Aboriginal people could perform as well as Europeans.
"On the cricket field, [the players] were able to prove themselves and reach a sort of equality they couldn't achieve beyond the boundaries of the field."
The players were given accommodation, food and a small wage, but they were pushed to their physical limits. Over an arduous four-month schedule, the side played 47 matches for 14 wins, 14 losses and 19 draws.
Dr de Moore says the players also performed a "colonial circus" of boomerang throwing, whip tricks and other examples of athleticism.
Tragically one player, Bripumyarrumin, died mid-tour from tuberculosis and pneumonia.
Though press coverage of the tour was not uniform, some newspaper reports used it to call for better treatment of Aboriginal people. This even included discussion of issues such as land rights in Australia, Dr de Moore says.
But he says the tour had a "tremendously dislocating effect" on the players when they returned home. "If you could compare it, for us, it would be like a trip to Jupiter," he says.
'Mixed emotions'
Sally Moylan, who will be part of the tour next month, says she has "mixed emotions" about the events of 1868.
But she says she feels proud to help honour players she regards as "phenomenal heroes".
"I feel like it's my cultural responsibility. I've got this opportunity so hopefully I can make the most of it and then set up for other people to follow," she tells the BBC.
Some matches will take place at ground that were used in 1868.
"I guess a few emotions will probably come out when when I step foot on those same grounds and picture what they endured," Moylan says. "If we can be half the players they were back then, we'll be doing all right.
Connecting with the past
In 1869 Victoria enacted laws that gave the colony sweeping controls over the lives of indigenous people, including rules that restricted travel. It prevented any chance of a second overseas tour.
In the century following, cricket languished behind other sports for indigenous participation. The story of the first tour, meanwhile, became largely forgotten.
Cricket Australia hopes a renewed focus on the tour will boost the sport's appeal among indigenous people. It says participation levels among Aboriginal Australians have already risen by 50% since 2015, following other efforts to raise cricket's profile.
"While we will never hide from the controversy of the times, it doesn't take anything away from the incredible achievements of the [1868] team," Cricket Australia says.
"This tour is about elevating the profiles of those players to the status that they deserve. They were true pioneers, not just for cricket but for Australian sport."
Nick Boland says that he and his brother, Scott – a fellow team member – only found out in recent years that they have Aboriginal ancestry.
"So for me to go over there, it's a great learning opportunity to further connect with the story of 1868," he says.
"I want to share that with not only my family and mob, but with the future generation as well."