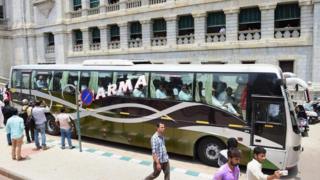 India's Supreme Court has intervened after an election in the southern state of Karnataka led to a political crisis.
The Bharatiya Janata Party (BJP), which won the most seats in the recently concluded poll, rushed to swear in a chief minister although it did not have the numbers for a majority.
This led to a stand-off with two opposition parties who cobbled together an alliance that gave them the numbers.
The state governor had allowed the BJP 15 days to prove their majority.
But amid massive outcry, the Supreme Court overruled him, and reduced the 15-day window to 24 hours. The BJP now have until 4pm to try and win over eight members from the opposition alliance to form the government.
The opposition parties have responded by hiding away their newly-elected lawmakers, and Indians are captivated by the drama that is unfolding on their television screens.
Here is a quick guide to what has been happening so far:
So who won the election?
Nobody – that's the problem.
The BJP emerged as the single largest party, but it fell short of a majority by eight seats. Even as the election results were being announced on Tuesday evening, the Congress rushed to ally itself with a regional party, Janata Dal (Secular) or JD (S).
Within hours, they had declared an alliance. Together, they have enough seats to give their coalition a slim majority in the new assembly.
But Karnataka's governor Vajubhai Vala invited the BJP to form the government and even allowed their candidate, BS Yeddyurappa, to be sworn-in as chief minister.
His controversial decision has led to a major standoff, with many saying it is a violation of the constitution.
Why was the BJP invited to form the government then?
This is where it gets confusing.
There is no clear course of action for what must be done in the case of a hung assembly.
In some instances, the single largest party has been invited to form the government, with the condition that it must then prove its majority on the floor of the house.
But there have also been instances when coalitions that have the required number of seats have been invited instead.
This is what happened after recent elections in in the states of Goa and Manipur – the Congress had emerged as the single-largest party in both polls, but had fallen short of a majority.
So there are precedents that can be used to support both points of view.
So what happens next?
That depends on whether the BJP can prove its majority on Saturday.
Opposition parties approached the Supreme Court after the governor invited the BJP to form the government on Wednesday evening.
They asked the court to stop Mr Yeddyurappa from being sworn-in as chief minister but the court refused.
Friday morning's ruling however, is being seen as a setback for the BJP.
So where are the lawmakers from both parties now?
It's hard to say.
Television news has shown lawmakers from the Congress and JD (S) being herded into luxury Volvo buses and taken to remote resorts – allegedly to keep them from being "bribed" by the BJP.
H.D. Kumaraswamy, a leader of the JD (S), accused the BJP of having offered $15m each to as many as 32 lawmakers.
Rumours are also flying fast. Some reports have said Congress lawmakers have flown to the southern city of Hyderabad, while JD (S) has flown its lawmakers to a city in the neighbouring state of Kerala; news flashes have said the parties had tried chartering planes to fly lawmakers to "secret" locations but these flights were allegedly cancelled by government officials.
There have also been unconfirmed reports of some lawmakers who have gone "missing".
Is this normal?
Surprisingly, yes.
Parties that are just shy of a majority are routinely accused of bribing lawmakers with large sums of money and making them switch allegiances.
Allegations and rumours about this are so common that they have become the butt of jokes. One Twitter user asked Amazon for "help ASAP" with what he described as " some shopping issues" – he wanted the "best deal" to buy seven lawmakers as a "gift" for BJP party president Amit Shah.
Over the years, lawmakers have become notorious for what Indians call "resort politics" – that is, they literally gather in resorts where they allegedly attempt buying off lawmakers from rival parties while watching over their own party members so they are not persuaded to jump ship.
Most Indian cities have hotels and resorts that have earned a place in local history as the alleged venues of such deals.
One of the reasons this happens is the large number of regional parties, which results in hung assemblies. So parties scrape together coalitions to muster enough support for a majority in the house.
Reporting by Aparna Alluri