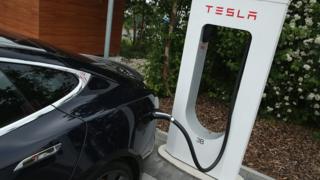 Electric car-maker Tesla told investors it would be profitable in the second half of the year, provided it hits its goal of making 5,000 Model 3s a week.
That would mark a major turnaround from the most recent quarter, when the firm lost more than $700m (£516m) – another record loss – and fell short of the production target.
Tesla said it made more than 2,000 Model 3s for three weeks in a row.
The firm paused work in mid-April in a planned shutdown.
Tesla shares rose in after-hours trading following the release of the results.
Tesla said it expects deliveries of its earlier luxury models to increase in the later half of the year.
It also said it would reduce its capital spending this year to less than $3bn, as it focuses on "near-term needs".