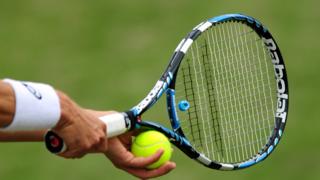 Belgium has detained 13 people in a probe into allegations of match-fixing in lower-level professional tennis.
Prosecutors said a Belgian-Armenian ring has been bribing players since 2014, with criminals winning bets on the fixed results.
Professionals competing in lower-level tournaments were easier to bribe, prosecutors said.
The investigation follows a report in April complaining of a "tsunami" of corruption in the sport.
An Independent Review Panel (IRP) looked into the integrity of professional tennis after a joint Buzzfeed and BBC News investigation found suspected illegal betting.
Belgian authorities cooperated with Bulgarian, Dutch, French, German, Slovakian and US counterparts in mounting simultaneous raids on Tuesday.
Twenty-one properties in Belgium were searched, with 13 people held on suspicion of match-fixing, corruption, money laundering and participation in organised criminal activities.
According to a report in Belgian newspaper Le Soir (in French), the matches in question took place on the International Tennis Federation (ITF) Futures circuit and the Association of Tennis Professionals (ATP) Challenger tour.
A judge will decide whether those held will be formally arrested, prosecutors said.
In response to the IRP report in April, the governing bodies of professional tennis – the ATP, WTA, ITF and Grand Slam Board – said they recognised "vulnerabilities" in the sport, particularly at lower levels.
They also said they were "committed to seizing the opportunity to address these concerns through firm and decisive action".
They are yet to comment on the Belgian raids.
What did the April report find?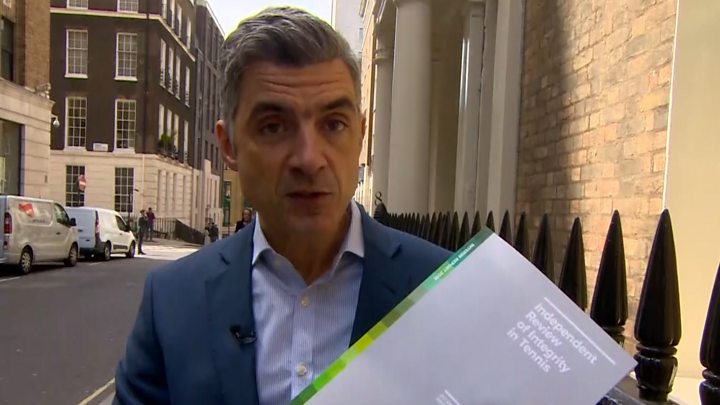 Led by Adam Lewis QC, the IRP found a "very significant" corruption problem at "lower and middle levels of the sport" which Mr Lewis described as a "fertile breeding ground for breaches of integrity".
There was no evidence of a cover-up by governing bodies.
Men's games accounted for 83% of suspicious match alerts between 2009 to 2017, Mr Lewis said.
There was also some evidence of issues at elite events like Grand Slams, but this was not seemingly a "widespread problem", the report said.