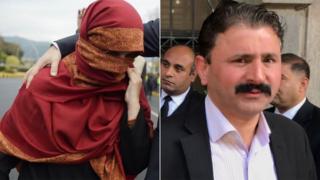 Pictures of 10-year-old Tayyaba's horrifically bruised face caused outrage in Pakistan when they were first uploaded to Twitter in late 2016.
She had been working as a "child maid" in the home of a judge and his wife.
Tayyaba is now living in a home run by the charity SOS Children's Village. She attends school and seems to be adjusting to her new life, but she still doesn't find it easy to talk about what happened.
Warning: This story contains graphic images of an injured child
Azmat, one of the carers at the charity, says initially Tayyaba couldn't bring herself to believe that she no longer had to work.
"She used to think of me in the same way, that I would make her work, that I would beat her. After a month or two she was finally convinced that she doesn't have to do any sweeping, doesn't have to wash any dishes, and isn't going to be beaten."
The couple employing her denied mistreating Tayyaba but, sitting alongside her carers, she told me she had been beaten by the wife simply for losing a broom. "They also burnt my hands," she added. The scars are still visible over a year on.
I asked if her parents ever told her why she had to work instead of being able to go to school. "My family had to pay off a debt… that's what my mum told me."
Tayyaba grew up in a small, poor village outside the city of Faisalabad, about four hours' drive south from Islamabad.
Her father, a labourer called Azam, said he sent Tayyaba away after his finger was cut off in an accident.
"I couldn't work and my wife needed an operation. We needed money, so I asked a friend and she suggested this family."
Azam claims he was told Tayyaba would be paid just "to play" with the couple's young children.
Children aren't legally allowed to work in most businesses in Pakistan, but in the vast majority of the country there's no law banning them from working inside homes.
Child maids are often required to cook, clean and look after babies – and there are thought to be tens of thousands of them across the country.
'Take my child'
For some, it's a business. Irshad Bibi runs an employment agency on the outskirts of Islamabad.
"I find work for children who are at least 12 years old, not younger than 10," she tells me defensively.
There's a long queue of families in her office trying to find jobs for their children. One father's young son and daughter ran away from the last home they were working in, but he's back because he says he needs the money.
"No parent wants their young child to go and work," Irshad tells me, "They're desperate… Here now is a parent crying, saying 'I am being thrown out of my house, I haven't even got 5,000 rupees [£32; $43], take my child and get her some work'."
Irshad says that no child she's found work for has ever been beaten, but tales of abuse are common and it's rare that anyone is ever held responsible.
In Pakistan, most criminal cases are filed by victims or their families, rather than by the state. That means, for many crimes, they have the right to drop the charges by stating they forgive the suspects "in the name of God". In fact, lawyers say the real reason is normally that they are paid off.
Tayyaba's case did go to court. Maheen Zafar was accused of assault, and her husband, Judge Raja Khurram Ali, was accused of cruelty to a child.
Tayyaba's father, with the help of his lawyer, tried to have the case dropped. But on this occasion, the Supreme Court overruled his decision, and ordered a trial to take place.
Tayyaba had told officials she had been beaten but her father, Azam, was insistent that the couple employing her couldn't be guilty.
"What she said to us was, 'I fell down the staircase,' not that she was beaten."
He suggested the police "frightened" Tayyaba into accusing the couple. I asked him how he could be so sure the judge and his wife didn't mistreat her?
"They have young children themselves, and when you have young children yourself you can't mistreat other young children."
He denied he was being paid to drop the case, "They have not put any pressure on us. They have never offered us any money nor made any threats."
When Tayyaba came to give evidence in court, she repeated the claim that she had been beaten.
Cold hands
However, under cross examination, she contradicted herself and withdrew the claims.
The court observed that Tayyaba seemed to be answering every question posed by the defence lawyers with a simple "yes sir." One of Tayyaba's carers, who accompanied her to court, told me her hands had gone cold with fear when she saw the defendants.
Tayyaba's case attracted a lot of media attention.
Child rights activist Qudsia Mehmood told the BBC the publicity helped efforts to close the legal "loophole" that meant children could be hired as domestic servants in Islamabad.
However, the new law only applied to the capital. Ms Mehmood wants other parts of the country to pass similar legislation. Even if that happens, she acknowledges implementing the law is often a challenge.
Many believe that as long as there are poor families willing to send their children to work, and richer families willing to hire them, the problem will continue.
How are child maids recruited?
Some child maids end up working in homes alongside their parents, or find work locally. But others are recruited by agents.
Irshad Bibi and one of her fast-talking recruitment agents, Sidra, agreed to let me accompany them on a trip to a village to find new potential child maids.
Their phones were constantly ringing – apparently clients looking for child maids.
Walking along the dirt roads I asked Sidra if she ever had to convince families their children would be safe?
"Yes, I have. We say, 'Send your children, and we'll look after them.'"
They take me to the home of a family who are hoping to send their 10-year-old daughter to work in Islamabad, about 240km (150 miles) away.
The mother says she's told her daughter about the plan and that she's agreed to it. Rabia, the young girl, looks up shyly at me. She's never worked before, though she tells me she washes the dishes and helps tend the goats at home.
I ask her if she'll be scared living away from her parents. She shakes her head, "No."
"We're poor. We have no choice," adds her mother. She worked as a maid herself as a child, in the home of the local village landlord.
"The first few days you think, 'Where am I?' Then you just put up with it."
A few weeks later, as the trial of the judge and his wife is due to end, I get a late-night call from Tayyaba's father Azam.
"I want to tell you the truth," he says, "Can you come back to my village?"
'I lied for a bribe'
The "truth", he says, is that Tayyaba did tell him she was beaten.
"She said that the judge's wife had burnt her with an iron, and didn't give her a bed at night."
He says his lawyer was arranged and paid for by the suspects – and that he convinced Azam to try to get the case dropped.
"He said: 'This isn't a bribe, it's a token of sympathy. Your kids don't have a home, we'll get you a house and a car. We'll help you.'
"If I didn't speak out against them then I'd get whatever I wanted."
I tried to pin Tayyaba's father down as to why he was only now saying this. He said he was fed up with telling lies, and wanted to take custody of his daughter again. But he also admitted it was because the alleged promises to help lift his family out of poverty never materialised.
"I thought OK, whatever has happened has happened, at least the rest of my kids will have a better life. But they haven't given me anything."
It's hard to know exactly what the truth is, but his account was corroborated by a second source who was initially involved in the negotiations.
Tayyaba's father's former lawyer says the claims are completely untrue. And that Tayyaba's father testified in court that he wasn't under any pressure.
The lawyer representing Raja Khurram Ali and Maheen Zafar told the BBC the claims were malicious and false.
The couple were convicted of neglecting an injured child and sentenced to one year in jail.
They were acquitted of all other charges, including assaulting Tayyaba. They remain free whilst they appeal the verdict.
For Tayyaba though, there is the chance at least of a happy ending. When she grows up, she wants to be a teacher because, she says, children should be in school – not working.
You can watch Secunder Kermani's documentary, Pakistan's Child Maids, on BBC World News on Saturday 9 June.