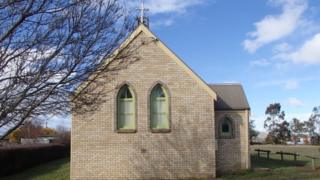 Reverend John Stanley says he will always remember the baptisms in his church, and the weddings and funerals that took place under its steeple.
Now, however, the church in Tasmania, Australia, is one of dozens of Anglican properties in the island state that are scheduled to be sold.
Religious organisations have grappled with how they will fund compensation for survivors of child sexual abuse.
In Tasmania, Anglican leaders say property sales will play a key part.
They plan to sell 108 properties, including more than half of the state's Anglican churches – 78 in total – to raise an estimated A$20m (£11.4m; $15.2m).
Of that sum, about A$5m will go to people who suffered abuse by church figures.
The compensation will form part of a national scheme, led by the Australian government, following a five-year inquiry into abuse in religious and non-religious institutions.
"People in the church recognise and remember those who have been hurt and now they have got something to do about it," Mr Stanley told the BBC on Tuesday.
Representatives from Tasmania's Anglican parishes approved the list of 108 properties at the weekend. Any appeals must take place before December.
Difficult for parishioners
At Mr Stanley's parish in New Town and Lenah Valley, four buildings including a church and two rectories have been earmarked for sale.
The church, St Andrew's, closed in 2016, when his congregation of about 120 people moved to a nearby church. But the sale plans have been difficult for parishioners, according to Mr Stanley.
"It's been a process and people have grieved and struggled with it," he said.
"The buildings carry a lot of memory to people. Their family grew up in that church. It's a place where special things have happened."
'Making amends'
However, Mr Stanley says his congregation and the clergy are committed to the proposed sale of 78 churches across the state.
"It feels like finally we can do something to make amends," he says.
"We all know that money doesn't fix it [the abuse]. But we just want people to know that we are grieved that they have been so hurt."
The local diocese says several churches to be sold in rural areas had been struggling to remain sustainable. Some with small congregations could not even afford a minister.
Bishop of Tasmania Richard Condie told the BBC that the Church expects to pay a total of A$8m to as many as 200 survivors in the state. Under the government-led scheme, each person will receive up to A$150,000.
A quarter of proceeds from each sale will go towards compensation. The remaining redress payments will be funded by contributions from all parishes.
"With Jesus as our model of costly sacrifice, the Anglican Church in Tasmania has shown it is fully committed to redress, whatever the cost," Bishop Condie said.
Church authorities said parishes are still able to apply for specific exemptions.
Cemetery concerns
Local community leaders have raised concerns about what will happen to cemeteries attached to some properties, which would also pass to new owners.
"People are outraged. They expect their relatives to be buried and laid to rest for eternity," said Tony Bisdee, mayor of the Southern Midlands region.
Some people have raised concerns that access to the cemeteries and their long-term upkeep may be affected by the sales.
However, Bishop Condie said that the sites would be protected and maintained through legal requirements.
The diocese said it would continue to seek feedback from the local community.