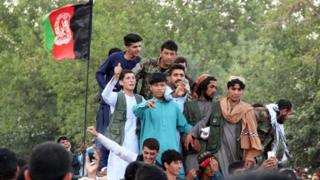 In scenes that would have seemed impossible a few days ago, members of the Afghan Taliban have been pictured embracing Afghan security forces amid a three-day ceasefire called to mark Eid.
Video and images of similar incidents across the country have been posted by local media.
Militants have also been pictured meeting Interior Minister Wais Barmak in the capital Kabul.
President Ashraf Ghani wants the ceasefire to lead to a longer peace.
He has called for the Taliban to negotiate.
Earlier this month the Taliban denied that they were in secret talks with the Afghan government.
Mr Ghani has also confirmed the death of the commander of the Pakistani Taliban, Maulana Fazlullah, in a US drone strike in Afghanistan.
Extraordinary scenes
By Anbarasan Ethirajan, BBC News
For many Afghans these are extraordinary scenes. The two sides were fighting each other just a few days ago. The unprecedented development has raised hopes of permanent peace in the war ravaged country.
Neighbouring Pakistan is considered key in starting the peace process as many Afghan Taliban leaders are believed to be living inside the country.
However Islamabad accuses Kabul of harbouring Islamist insurgents who have carried out several violent attacks inside Pakistan in the past.
But the killing in Afghanistan of Mullah Fazlullah, one of Pakistan's most wanted militants, could address some of Islamabad's security concerns.
What has been happening?
Tolo News posted video of a militant embracing an Afghan soldier in Kunduz in the north of the country.
Channel One meanwhile posted pictures of militants and soldiers in Ghazni to the south of Kabul
In Kabul itself, dozens of unarmed Taliban fighters entered to celebrate the unprecedented ceasefire.
One Taliban member was pictured holding an Afghan flag on a bridge in the city as residents took selfies with him.
Militants were also pictured with Mr Barmak.
How did the ceasefire come about?
The Taliban announced the three-day halt to hostilities earlier this month, days after a unilateral ceasefire lasting until Wednesday was ordered by the government.
It is the Taliban's first ceasefire since the government they ran was toppled by the 2001 US-led invasion.
The US state department has said US forces and coalition partners would "honour the ceasefire".
Officials said there had been no attacks since the ceasefire had been announced.
In February Mr Ghani offered peace talks "without preconditions" and recognition of the Taliban as a legitimate political group if they respected the rule of law.
How have ordinary Afghans reacted?
Residents have been expressing their surprise and delight.
"I could not believe my eyes. I saw Taliban and police standing side by side and taking selfies," Kunduz resident Mohammad Amir told Reuters.
"It was the most peaceful Eid. For the first time we felt safe. It is hard to describe the joy," said Qais Liwal, a student in Zabul in southern Afghanistan.
Crowds whistled and shouted as they welcomed Taliban fighters in various cities, Reuters reported.
In Jalalabad in eastern Afghanistan they offered fruit and sweets to the militants.
Tens of thousands of Afghans have been killed since the US-led invasion drove the Taliban from power in 2001.
How does the Pakistani Taliban leader's death fit in?
In Pakistan, Interim Prime Minister Nasir-ul Mulk has said the killing of the Pakistani Taliban leader Maulana Fazlullah in a US drone strike was a significant development in the fight against terrorism.
It follows a phone call from Mr Ghani confirming the militant's death.
The phone call is seen as an attempt to gain Pakistan's confidence and boost co-operation in Afghanistan's fight against militants, many of whose leaders live in Pakistan.
Fazlullah was linked to a number of attacks including a school massacre in Peshawar in 2014 that killed more than 150 people.
He also ordered the attempted murder of schoolgirl Malala Yousafzai, who was shot in the head on a school bus aged 15.
The Pakistani Taliban said at the time that they had shot her because she was "pro-West" and "promoting Western culture in Pashtun areas".