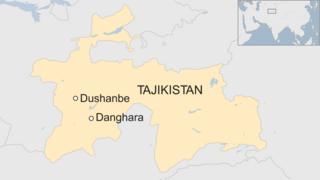 Four foreign cyclists killed after a car hit them in Tajikistan on Sunday may have been victims of a deliberate attack, local officials say.
Two Americans, a Swiss and a Dutch citizen died on Sunday in the Danghara district, some 70km (43 miles) south-east of the capital Dushanbe.
Three tourists were also injured by the car, whose occupants then drove off.
Two people suspected of involvement in the incident were later "liquidated", Tajik officials say.
The interior ministry said the suspects showed "resistance" during a special operation launched after the incident.
Another person was arrested and a damaged car believed to have been involved was recovered.
Reports in local media say the suspects were armed with knives and attacked the tourists after the car hit the cycling group.
On Monday, Tajikistan's President Emomali Rakhmon sent notes of condolence to the US, the Netherlands and Switzerland.
The victims were on a tour in the Central Asian country in a group with three other tourists from France, the Netherlands and Switzerland.
In a statement, the US embassy in Dushanbe said: "We can confirm that two American cyclists were killed in the Danghara district on 29 July. Due to privacy concerns, we are unable to share further details."
Swiss, Dutch and French officials have so far made no public comments on the issue.
Tajikistan has struggled with poverty and instability since the former Soviet republic became independent in 1991.