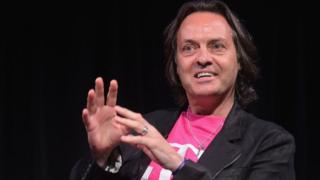 US telecoms giant T-Mobile has agreed to buy its rival Sprint in a $26bn (£18.9bn) deal.
The merger of America's third and fourth largest mobile broadband carriers is designed to create a more competitive firm with some 127 million customers.
However, the deal is expected to attract regulatory scrutiny over its potential impact on consumer prices.
T-Mobile boss John Legere broke the news of the agreement on Twitter.
The deal was struck after months of negotiations between T-Mobile's controlling shareholder, Deutsche Telekom, and Japan's SoftBank, which controls Sprint.
Under the agreement, Deutsche Telekom will own 42% of the combined company, and control its board.
Mr Legere will lead the firm which will have a market value of $146bn.
Competitive market
Analysts say the combined company would have more clout to compete with the first and second biggest US telecoms companies, Verizon and AT&T, in the race to provide America with advanced 5G mobile broadband technology.
They also say that, without T-Mobile, Sprint lacks the scale needed to invest in its network and compete in a saturated market.
Verizon and ATT both have more than 100 million subscribers each.
Sprint and T-Mobile had been in talks about a potential tie-up since 2014, when the Obama administration scuppered a previous merger plan over competition concerns.
Under the Trump administration, regulators have continued to challenge deals they believe could push up consumer prices.
The US Justice Department is currently trying to block AT&T's deal to buy US media giant Time Warner for $85bn, warning that "consumers all across America will be worse off" if it is approved.
It has also allegedly opened a probe into claims of co-ordination by AT&T, Verizon and a telecoms standards body to stop consumers from easily switching provider, Reuters reported earlier this month.
In a statement, Mr Legere said the merger between Sprint and T-Mobile would lower prices.
"This combination will create a fierce competitor with the network scale to deliver more for consumers and businesses in the form of lower prices, more innovation, and a second-to-none network experience – and do it all so much faster than either company could on its own."