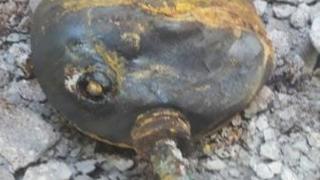 The global chemical weapons watchdog says the nerve agent Sarin and chlorine are very likely to have been used in attacks on a Syrian village last year.
The Organisation for the Prohibition of Chemical Weapons concluded Sarin was used as a weapon in the south of rebel-held Latamina on 24 March 2017, and chlorine at its hospital the next day.
It did not assign blame for the incidents, in line with its mandate.
But activists said at the time the area was under attack by government forces.
The government has repeatedly denied ever using chemical weapons.
However, a joint UN-OPCW mission that recently ended said it was confident that government forces used Sarin in an attack on the rebel-held town of Khan Sheikhoun just days after the incidents in nearby Latamina.
The statement issued by the OPCW's Fact-Finding Mission (FFM) said its conclusions about the likely use of Sarin and chlorine in Latamina were based on witness testimony, epidemiological analysis and environmental samples.
It did not provide any details about what happened in the incidents, but a UN Human Rights Council commission of inquiry has reported on the events of 25 March.
It said a Syrian air force helicopter dropped what was believed to have been a barrel bomb filled with chlorine on Latamina hospital that day, killing three civilian men – a surgeon and two patients.
Witnesses told investigators that the bomb made only a slight noise before releasing a yellow-greenish smoke that smelled strongly of cleaning agents.
At least 32 people were reportedly injured as a result of the attack. Most of them suffered from irritated throats and eyes, difficulty breathing, vomiting and frothing of the mouth.
The commission of inquiry has cited the director of the OPCW as saying that Sarin was released in another attack on Latamina on 30 March 2017. At least 85 people suffered breathing difficulties after an unidentified warplane dropped a bomb on the village that day, it said.
The OPCW is also currently investigating a suspected chemical attack in April 2018 in the then rebel-held town of Douma, in which medics say 40 people were killed.
The US, UK and France said they were confident that chemical weapons had been used in Douma by government forces and in response carried out missile strikes on Syria's "chemical weapons infrastructure".
In a recent interview with the Daily Mail, Syrian President Bashar al-Assad insisted the three Western countries had "staged" the incident in Douma, which took place shortly before the town fell to government forces.
"It was a lie. After we liberated that area our information confirmed the attack did not take place," he said. "The British government should prove with evidence that the attack happened, and then they should prove who is responsible."