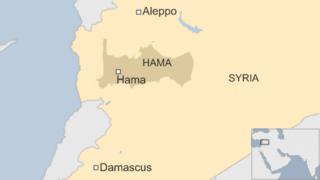 Missiles have hit a number of military sites in northern and central Syria, state media say, with unconfirmed reports of dozens of fatalities.
Facilities in Hama and Aleppo provinces were hit, the Syrian military said. Iranian semi-official media said Iranian personnel were among the dead.
Weapons warehouses and command centres were struck, reports say.
It is not known who was behind the attacks. Western nations and Israel have previously hit sites in Syria.
Earlier this month, the US led an attack on facilities linked to what it said were chemical weapons centres, while Israel is alleged to have hit an airbase serving as an Iranian drone command centre.
Seven Iranian soldiers were among 14 military personnel killed in that attack.