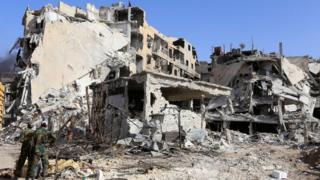 The Syrian military has declared that it has taken full control of all areas around the capital, Damascus, for the first time in six years.
"Damascus and its surroundings… are completely secure," spokesman Gen Ali Mayhoub said on state television.
The announcement came after troops cleared Islamic State (IS) militants from the Yarmouk Palestinian refugee camp and the Hajar al-Aswad district.
Some jihadists are reported to have been evacuated by bus to eastern Syria.
Syria's civil war began in 2011 with protests against President Bashar al-Assad.
The following year, the government began losing control of parts of Damascus and large swathes of territory elsewhere to jihadists and mainstream rebels.
The intervention in the conflict by Russia and Iran, both staunch allies of Mr Assad, has turned the tide of the war in his favour in recent years and allowed him to re-establish control over the capital and other major cities in western Syria.
The fighting has left at least 350,000 people dead and displaced 11 million others.
In a televised statement on Monday afternoon, Gen Mayhoub announced that "Damascus and its surroundings, its countryside and its towns, are completely secure" following "a series of intensive and successive military operations".
He said operations to regain control of Yarmouk and neighbouring Hajar al-Aswad, in the south of the capital, had left a "large number" of IS militants dead.
"This concludes the complete cleansing of all of the towns in the Western and Eastern Ghouta from the scourge of armed takfiri terrorism", the general added, using a term for extremists who see other Muslims as non-believers.
The Western and Eastern Ghouta regions were once major rebel strongholds.
The latter was recaptured in April by pro-government forces who had laid siege to it for five years before launching a major assault. The operation killed more than 1,700 people before rebel fighters and members of their families agreed to be evacuated to the north-west of the country.
Earlier on Monday, the UK-based Syrian Observatory for Human Rights reported that IS militants had left Yarmouk and Hajar al-Aswad under a similar evacuation deal, despite Syrian state media denying that anything had been brokered.
Thirty-two buses transported 1,600 people out of the areas on Sunday and Monday, and headed towards the Badiya region, a vast stretch of desert in south-eastern Syria where IS still controls pockets of territory, the monitoring group said.
A US-led multinational coalition that is supporting Syrian rebel and Kurdish fighters battling IS in the Badiya said it was "aware of reports of an evacuation".
An opposition activist also said another 200 to 250 civilians were travelling by bus to rebel territory in the north-western province of Idlib.
BBC Arab affairs analyst Sebastian Usher says the price of victory in Damascus for President Assad, as almost everywhere else in Syria, has been high – in death, destruction and displacement.
Residents of the capital will breathe a sigh of relief, our correspondent adds, but further south and to the north in Idlib, hundreds of thousands of people in rebel-held areas will be fearful that pro-government forces will come for them next.