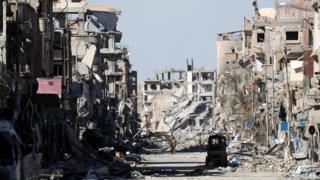 The UK should "come clean" about its role in attacks on the Syrian city of Raqqa which allegedly killed hundreds of civilians, a charity has said.
Amnesty International said it has found evidence air strikes by a US-led coalition were "potential war crimes".
The charity spent two weeks in Raqqa, which had been targeted in the war against the so-called Islamic State (IS), interviewing 112 witnesses.
Both the UK and US said civilian casualties were minimised.
'Carnage'
Air strikes on Raqqa, the capital of IS's so-called caliphate since 2014, began on 6 June last year.
Syrian Democratic Forces backed by the coalition took control of the city in October.
Amnesty director Kate Allen said: "Civilians in Raqqa have suffered grievously at the hands of IS, but they've also been imperilled by the coalition's disproportionate aerial attacks."
She said the coalition's more than 200 strikes "killed hundreds and injured thousands of civilians" and "the UK needs to come clean over its role in this carnage".
Coalition spokesman US Army Col Sean Ryan said Ms Allen should "leave the comforts of the UK" and see how the forces are "fighting an enemy that does not abide by any laws, norms or human concern".
He said there are "rigorous efforts and intelligence gathering" before any strike to "effectively destroy IS while minimising harm on civilian populations".
Col Ryan also said IS fighters used non-combatants as shields "in order to sadistically claim the coalition is killing civilians".
Last month, the Ministry of Defence (MoD) admitted for the first time that a civilian on a motorbike had been "unintentionally killed" in eastern Syria as a result of an RAF Reaper drone strike on 26 March.
An MoD spokesman said the aim of the campaign was "keeping Britain safe from terrorism" and the department has been "open and transparent".
He said: "We do everything we can to minimise the risk to civilian life through our rigorous targeting processes and the professionalism of the RAF crews but, given the ruthless and inhuman behaviour of (IS), and the congested, complex urban environment in which we operate, we must accept that the risk of inadvertent civilian casualties is ever present."