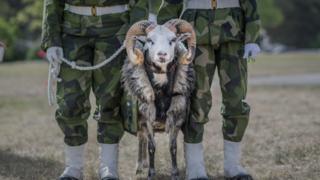 The Swedish army has re-raised a regiment on the island of Gotland to counter any Russia threat from across the Baltic Sea, but during the official ceremony, its new sheep mascot stole the show by interrupting King Carl XVI Gustaf as he addressed the troops.
The P18 Gotland Regiment was disbanded in 2005, but the government decided to re-establish it in 2015. One task was to recruit a local sheep to follow in the hoof-prints of the four previous mascots, all called Harald, Swedish public radio reports.
Harald I served from 1979 to 1988, rising to the rank of honorary corporal before retiring, according to the local Helagotland news site. And the latest Harald was chosen from a highly competitive field, as the regiment's commander Mattias Ardin reported on Twitter.
All the Haralds have been Gotland sheep, a breed descended from the vädur – a "symbol for both Gotland and the regiment", regimental chief of staff Hans Håkansson told Swedish radio.
The ancient breed is famous for both males and females with dramatic curled horns. They have featured on regimental standards since 1811, and still appear on the sleeve insignia to this today,
Harald V and Carl XVI Gustaf
But the latest incarnation broke with protocol when he interrupted the King at the re-dedication ceremony on Gotland this week.
Carl XVI Gustaf had called on the soldiers and their co-workers "to always to do your best to protect the core values upon which the Swedish nation and its armed forces rest", prompting an emphatic bleat, perhaps of approval, from the new mascot at the word "co-workers", Swedish radio reports.
The news prompted fond memories of previous mascots, and confidence in the martial prowess of the latest.
"Wasn't it Harald II who gouged out the side door of a van during the guards ceremony at Stockholm Castle in order to take a look around?" wondered Twitter user Bosse Bil.
While Lennart Andersson took one look at Harald's horns, and decided "That's the real deal. If the Russians get that in the chops, it's good night."
Reporting by Matilda Welin
Next story: Moscow stations get World Cup selfie spots
Use #NewsfromElsewhere to stay up-to-date with our reports via Twitter.