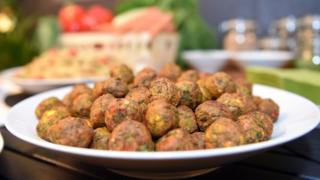 Swedish meatballs, the national dish of Sweden, have been revealed to have originated from another country – Turkey.
A post on Sweden.Se, the nation's official Twitter account, on Saturday told followers: "Swedish meatballs are actually based on a recipe King Charles XII brought home from Turkey in the early 18th century. Let's stick to the facts!".
Reaction to the news has included speculation over what other foods may be Turkish, and what this may mean for Swedish furniture store Ikea, known for its meatballs.
Many Turkish media outlets have called the tweet a "confession" and pointed out it is not the only product the King took to Sweden.
The Anadoly Agency refer to Annie Mattson, a researcher at Sweden's Uppsala University, who claims the King also brought with him coffee beans and stuffed cabbage.
King Charles reigned from 1697 to 1718 and is said to have lived in Bender near Moldova, part of the old Ottoman Empire, after losing a battle with Russia.
Some people in Turkey have made a link between meatballs and the popularity of the furniture chain Ikea in their country since the first store opened in 2005.
Dortmundcocugu said: "There must have been a reason why the Turkish people embraced something from Sweden so willingly. Ikea equals meatballs for many of us".
"After this confession, would you discount the meatballs to win our hearts again?" asked Ah Ulan Zaf.
You might also like:
However, Serdar Cam, president of the Turkish Cooperation and Coordination Agency (TIKA), has criticised Ikea's role in the selling of Turkish meatballs.
"By selling these meatballs as Swedish meatballs for years in their chain furniture store, they are also saying I can sell your meatballs as if they are mine, through my marketing and distribution organisation," he tweeted.
Many Turkish people thanked the Swedish account for bringing the history of the meatball to their attention.
But for some in Sweden, the news was, apparently, too much to take.