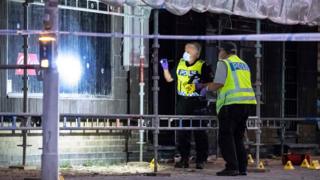 A shooting at an internet cafe in the southern Swedish city of Malmo has claimed the lives of three men.
Several others were wounded in the centre of the city on Monday evening when at least one attacker opened fire as people left the cafe, a short distance from a police station.
Witnesses reported hearing about 15 shots fired by an automatic weapon.
Police said there was no indication of terrorism. Reports said they were searching for a dark-coloured car.
The gunman is believed to have opened fire either from the car or was driven away from the scene immediately afterwards.
At least one of the victims of the shooting was known to police, Swedish media reported.
The three men who died were 18, 20 and 29, reports said.