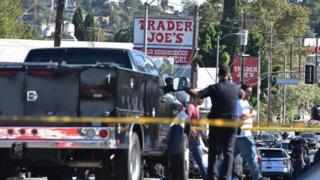 Los Angeles police have surrounded a supermarket where a suspect barricaded himself, with US media describing it as a possible hostage situation.
"There is still an active police incident at the #TraderJoes," LAPD police tweeted.
The man is said to be armed. People were seen running from the shop. There are reports of one person injured.
The suspect earlier fired shots after a police pursued his car. He crashed the vehicle, and ran inside the shop.
Los Angeles police said SWAT (Special Weapons and Tactics) teams were on the scene to try to "bring a swift resolution to this incident".
A woman was taken from the crashed car and transported to a local hospital, US media report.
The police pursuit began after the suspect shot his grandmother and girlfriend, reports say.
US President Donald Trump tweeted that he was watching the situation "very closely".