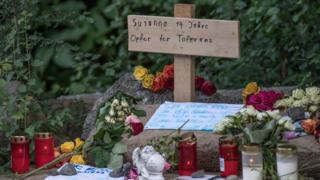 A failed Iraqi asylum seeker suspected of raping and murdering a 14-year-old girl in a case that shocked Germany has been arrested in Iraq, officials say.
Ali Bashar, 20, was arrested by Kurdish authorities in northern Iraq at the request of German police, Interior Minister Horst Seehofer said.
Germans were outraged that an airport security blunder allowed him to flee.
Susanna Feldman's murder has rekindled criticism of Chancellor Angela Merkel's immigration policy.
The leader of the far-right Alternative for Germany (AfD) party said Mrs Merkel should resign and called for a protest on Saturday.
It comes as Mr Seehofer moves forward with controversial plans to hold asylum seekers in centres until their right to stay is determined. He has also vowed to speed up asylum procedures and increase deportations.
More than a million migrants arrived in the country in 2015 although the number of arrivals has since fallen.
Susanna Feldman, from the city of Mainz, was reported missing last month. On Wednesday her body was found near the refugee centre where Bashar lived. She was last seen at the refugee centre, local media reported.
The teenager was Jewish but police said there was no evidence her religion was a factor in the crime. The Central Council of Jews in Germany said many details in the case remained unclear and called for a thorough investigation.
Police said Bashar and his family were able to board a plane from Dusseldorf even though the names on their identity documents did not match those on their tickets, police said.
Bashar had arrived in Germany in 2015 with his parents and five siblings but had his asylum request refused the same year and was due to be deported. However he obtained a temporary residence permit while he waited for his appeal to be heard.
During that time he became known to police in connection with several violent incidents, including an alleged robbery, possession of a knife and fighting. He was also among several people suspected of sexually assaulting an 11-year-old girl who was living in the same refugee shelter.
Susanna Feldman's murder follows similar cases that have also caused widespread shock.
In March Afghan asylum seeker Hussein Khavari was jailed for life for the rape and murder of student Maria Ladenburger.
Last December an Afghan migrant was arrested on suspicion of stabbing his 15-year-old ex-girlfriend to death in a pharmacy.
Tabloid Bild said such incidents were "explosive for our society". Frankfurter Allgemeine Zeitung said "these cases seem to be adding up" and Tagesspiegel said that it was "particularly sad" that the victims were "interested, curious and… tried to befriend" migrants.