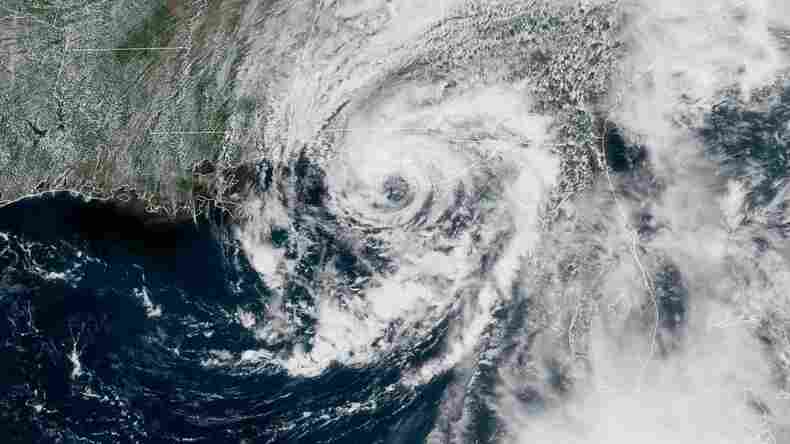 Subtropical Storm Alberto is bringing soaking rains and strong wind gusts to the Gulf Coast and the Florida Panhandle, where it made landfall near Laguna Beach, Fla., on Monday afternoon. Officials are warning of dangerous conditions, even though Alberto's maximum winds dropped to 45 mph.
"Heavy rainfall and flash flooding [are] occurring over parts of the Florida Panhandle," the National Hurricane Center said. Similar conditions could affect parts of Alabama and western Georgia tonight, the center said.
Forecasters are also warning people in those same areas and in southern South Carolina of the possibility that "brief tornadoes" could develop as Alberto moves further inland.
Laguna Beach is just west of Panama City, Fla. – which is predicted to get more than 6.5 inches of rain through Tuesday night, according to the National Weather Service's office in Tallahassee.
Shortly before 5 p.m. ET, Alberto was moving north at near 9 mp, the NHC said. It's expected to speed up a bit over the next few days, as it takes a northward to north-northwestward motion.
NOAA/NWS, Esri, HERE, Garmin, Earthstar Geographics
"On the forecast track, the center of Alberto will move over Alabama later tonight and Tuesday," the NHC says. "The system is forecast to move over the Tennessee Valley on Tuesday and into the Ohio Valley and Great Lakes region on Wednesday and Thursday."
Perry, Fla., has received nearly 2 inches of rain since Sunday morning, and it will get much more, the NWS said. More than an inch of rain has also already fallen in both Tallahassee and Apalachicola. Warnings about storm surges and high surf were aired along the coast on either side of Apalachicola on Monday.
Here's are estimated rainfall totals so far, forecast amounts from now through Tuesday night, and a depiction of the ongoing Flash Flood Watch where isolated higher amounts could cause flash flooding. pic.twitter.com/TdxIVD5Npc

— NWS Tallahassee (@NWSTallahassee) May 28, 2018
From the Florida Panhandle across eastern and central Alabama and into western Georgia, people can expect from 4 to 8 inches of rain, with isolated cases of 12 inches of rain, the NHC said.
Federal officials with the Gulf Islands National Seashore — a group of barrier islands in the Gulf of Mexico — say that ahead of Alberto's arrival, "All Florida areas remain closed, including Hwy. 399 between Pensacola Beach and Navarre Beach."
In addition to parts of the southeastern U.S., the heavy rains and storm conditions could produce "life-threatening flash floods and mudslides" in Cuba, the NHC said.
Alberto is the first named storm of the 2018 hurricane season – a season that doesn't formally begin until June 1, the National Hurricane Center says.
After Alberto reached 3.25 days as a named storm, Colorado State University meteorologist Philip Klotzbach said that it is "the longest-lived Atlantic named storm forming in May since Alice in 1953."