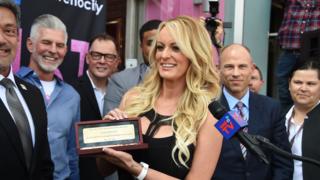 The California city of West Hollywood has proclaimed 23 May Stormy Daniels Day.
In a ceremony at the Chi Chi La Rue sex shop, West Hollywood granted the adult film star the key to the city.
Ms Daniels, real name Stephanie Clifford, says she had an affair with President Donald Trump over a decade ago, and has sued him over a non-disclosure agreement about the relationship.
The president denies the affair.
In a Facebook post, the city said Ms Daniels "has proven herself to be a profile in courage".
West Hollywood Mayor John Duran and members of the city's council gave Ms Daniels the key to the city in a ceremony on Wednesday.
According to the Hollywood Reporter, Ms Daniels thanked the city and praised its tolerance.
"This community has a history of standing up to bullies and speaking truth to power, and I'm so very, very lucky to be a part of it," she reportedly said.
Ms Daniels' lawyer, Michael Avenatti, also attended, and reportedly praised his client's courage.
"This woman has a degree of fortitude that most of us can only dream about," he said, calling himself "blessed" to work with her.
Ms Daniels alleges she and Mr Trump slept together in a hotel in Lake Tahoe in 2006, months after the birth of his son Barron.
Currently under investigation in the US, Mr Trump's lawyer Michael Cohen told the New York Times that he paid Ms Daniels $130,000 to stay quiet about the alleged affair.
Mr Trump has disclosed reimbursing his lawyer for the payment.