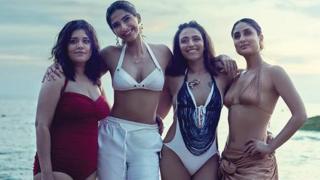 A Bollywood summer film that shows female bonding among four hard drinking, foul-mouthed friends has sparked a social media storm.
Set in south Delhi, one of India's poshest neighbourhoods, Veere Di Wedding is about a group of school friends who are now grown up independent women. The film is about four BFFs (best friends forever) and a wedding gone wrong.
The four friends swear freely, drink and throw up with equal speed, and have flings.
They deal with familiar Indian social tropes like the distaste for arranged marriages, weight issues, being judged by friends and relatives, putting up with the pressures of a big fat over-the-top wedding, and balancing parental approval and those of husbands' families.
Their open and casual swearing and discussion of their sexual needs seems a breath of fresh air for an Indian film. The four women are unapologetic about wanting sex or their flippant display of wealth.
'Flying solo'
Veere Di Wedding began trending on Twitter soon after a successful release, as a group of viewers attacked the actor Swara Bhaskar, who plays one of the female leads, for a scene which shows her masturbating.
One of them said he was "embarrassed" about the scene as he had taken his granny along to watch the film.
Indian politician and former chief minister of Jammu and Kashmir Omar Abdullah couldn't help his sarcasm.
There were also jokes galore on taking grandparents to films containing taboo subjects.
The film shows Bhaskar's character's marriage unravelling after her husband finds her in bed "flying solo".
She tells her friend she had "half-cheated" on her spouse. She says her husband, who saw her with a sex toy, had begun to "blackmail her" and she takes to the bottle to overcome her shame before her parents and relatives.
Social media is divided down the middle. A section of viewers and critics have panned the film saying it's a failed opportunity to showcase female bonding in a sensible manner. They say the film subscribes to regressive notions of female sexuality.
"The girls have a nice chemistry but the film's misguided notions of feminism are its undoing," says film critic Rajiv Masand.
Others who have supported Bhaskar on Twitter have also not stopped themselves from saying that the film subscribes to regressive notions of female sexuality.
One critic said the film was a "wasted opportunity", stacked with clichéd stereotypes about progressive women:
Many defended the film, saying it was simply about women having fun and nothing more. They wondered why it should be a commentary on feminism:
Other viewers said the film didn't work, because it was, simply, "poorly made".
Rich girls wanna have fun
Even as the social media storm continues, Veere Di Wedding appears to have given a fillip to women-led movies in Bollywood, which has been traditionally squeamish about handling taboo subjects like female masturbation. The breezy summer film has broken some myths about Indian women and its success proves that it has found an approving audience.
The producers and filmmaker Shashanka Ghosh should be happy – the film is already one of this year's biggest hits, a formidable achievement for an all-female lead movie and Veere Di Wedding has been called Bollywood's own Sex and the City.
Veere Di Wedding works because it doesn't take itself seriously and the four female leads show how friendships work. There are numerous instances where they push each other's buttons, and also support each other when the chips are down.
Bollywood, which has way too many bromances, has finally come up with its own girl gang movie.
Film critic Sharanya Gopinathan writes that "it's rare for a Bollywood film that dives into the randomness, particularities, humour and fun of being female and having good female friends, and the power that members of a group like that can draw from each other".
Going by its growing box-office success, Veere Di Wedding, despite its fault lines, is happily holding up the card for loads of female fun this season.
Sudha G Tilak is a Delhi-based independent journalist