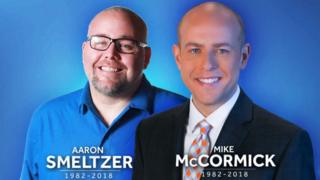 Two journalists were killed in a "freak of nature" accident while covering weather conditions in North Carolina during storm Alberto.
Mike McCormick and Aaron Smeltzer, from news outlet WYFF, died when a falling tree crushed their car as they drove down a highway.
Fire chief Geoff Tennant had recorded an interview with the pair minutes before he received the emergency call.
He said they had each exchanged wishes to stay safe just 10 minutes earlier.
Mr McCormick was a reporter and anchor, and Mr Smeltzer was a photojournalist. Both were on assignment covering the extreme weather.
The tree, Mr Tennant said, "probably fell in excess of 30 feet".
While the deaths of the two journalists are not being directly attributed to the storm itself, the heavy rainfall had waterlogged the soil, probably contributing to the tree's fall.
"It is one of those things you know is going to happen, or you can predict it may happen – you don't know when," Mr Tennant said.
He said the death of both men has "personally affected me", and that although it was his first meeting with Mr McCormick and Mr Smeltzer, "you feel a sense of responsibility for them".
The news station which employed both men paid tribute to them in its reporting.
"Our news family grieves over the loss of two special journalists – and two special friends," news anchor Carol Goldsmith said as she reported the news on WYFF 4's evening news.
Mr McCormick was an anchor and reporter covering the Spartanburg area with more than a decade's experience in the role.
Mr Smeltzer had joined WYFF this year from local competitor station WSPA.
In their own story on the tragedy, WSPA 7's anchors said: "The journalists who died in today's crash were friends to many of us.
"They were committed to their work, to this community, and while we are of course competitors on air, Mike and Aaron were our friends and they were part of our larger journalism family.
"We will miss them both terribly."
Viewers also sent in their messages of sympathy after the news was broadcast.
Subtropical storm Alberto is the first named Atlantic storm of 2018. It made landfall on Florida's north-western coast on Monday, which was also the Memorial Day holiday in the United States.
It has since weakened to a subtropical depression, with maximum winds of 35 mph (55km/h) and sustained heavy rainfall, the US National Hurricane Centre said.