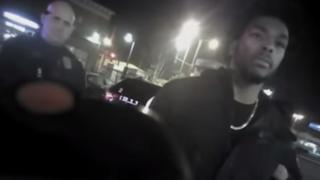 Milwaukee police have released video of officers tasing a basketball player over a parking violation.
NBA player Sterling Brown was arrested and stunned in January after parking in a disabled space.
Until now, the police had refused to release the 30-minute video to the public; it shows that Mr Brown does not seem to physically resist the arrest.
Police chief Alfonso Morales apologised for his officers' behaviour after an internal investigation.
Speaking shortly after the release of the body cam footage, Mr Morales said he was sorry the incident "escalated to this level", declaring certain officers had "acted inappropriately" and had been disciplined.
Mr Brown announced on Wednesday he would be taking legal action against the Milwaukee police department.
The video, published on YouTube, shows officers pulling Mr Brown to the ground by his car, with one shouting, "Taser, taser, taser".
Mr Brown was briefly jailed but never charged with any crime.
Mr Brown made a statement after the release of the video.
After "what should have been a simple parking ticket" turned into "unlawful use of physical force", the statement reads, Mr Brown said the police actions have "forced me to stand up and tell my story".
"Black men shouldn't have to have their guard up and instantly be on the defensive when seeing a police officer, but it's our reality and a real problem," the Milwaukee Bucks player said.
"I will take legal action against the Milwaukee Police Department to continue forcing change in our community."
His team also released a statement, calling the police's actions "shameful and inexcusable".
"There needs to be more accountability," the statement says.
The city has had problems before with police conduct toward black citizens.
In 2017, a former officer was acquitted of first-degree reckless homicide after shooting 23-year-old Sylville Smith in 2016.
The shooting sparked two days of unrest across Milwaukee.