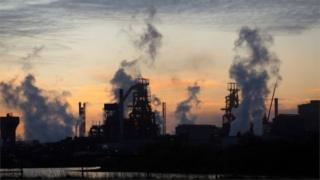 Tata Steel and Thyssenkrupp have agreed a merger that will create Europe's second-biggest steelmaker, after Arcelor Mittal.
German-owned Thyssenkrupp's supervisory board gave the go-ahead to the joint venture on Friday.
The deal will mean Indian-owned Tata Steel's UK plants are merged into a pan-European venture with annual sales of about £13bn.
These include the UK's biggest steelworks at Port Talbot in Wales.
Almost 7,000 people are employed by Tata in Wales, including more than 4,000 in Port Talbot – the largest steel works in the UK.
The two companies have been in talks over a 50-50 tie-up since 2016.
When details of an initial agreement emerged last September both sides said they said they expected about 4,000 jobs would go as a result of the merger, with half coming from administration and half from production.
The job losses will be shared evenly between the two companies.
"The joint venture with Tata Steel is an important milestone for the transformation of Thyssenkrupp to an industrials and service group and will lead to a significant improvement of the financial figures of Thyssenkrupp," the group said in a statement.
The new company will be called Thyssenkrupp Tata Steel and be based in the Netherlands.